Difference between revision 10 and current revision
Summary: One less HIstoryProjectTodoList
No diff available.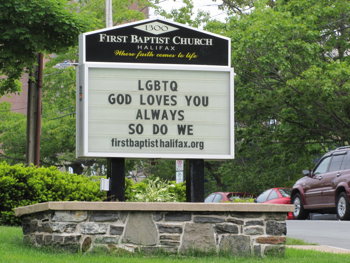 Main Website: http://fbchalifax.ca/
2006

Became "affirming" (that is, affirming the full inclusion LGBT folk in the church's life and ministry) by a 93% vote. Possibly influenced by music director AllenWayte. The decision leads to First Baptist leaving the membership of the Convention of Atlantic Baptist Churches.
"It really started a couple of years before that, and largely it came about because the country was going through the process of (deciding) whether same-sex marriages were going to be legal or not," says Rev. John Boyd, "That raised the issue of if they're legal, what would we do. We didn't want to be making that decision while somebody was standing on the doorstep, asking, because then it would become about them rather than about the issue.

2011

First same-sex wedding, officiated by Rev. Boyd.

2013

First Baptist is the only Canadian church to be featured in Rightly Dividing the Word of Truth, a collection of Bible studies and theological reflections about how to be inclusive of members of the gay community. ISBN 0962289647 (alternate, search)

2018

New logo highlights this history of inclusiveness
research the path to making that 2006 decision - the who's and when's.