As of February 19, 2009, the Blue Moon is no more. See article in the April 2009 Wayves.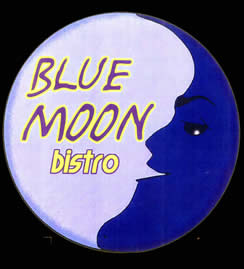 Blue Moon, formerly known as BlueMoonBistro. 2099B Gottingen St.
Official Web site was www.thebluemoon.biz
Congratulations from staff and writers of the Gay Halifax Encyclopedia to JohnDickinson? on the opening of your new space.
History
; February 2007: New owner JamesNoxall?
; July 28th, 2006: GaryTurner writes: We are pleased to announce that as of today we are re-openned permanently. Our hours of operation will be 7 days a week from 12 noon until until 2am at our new location, 2099b Gottingen St, Halifax. The former Club NRG ( across the street from Menz/Mollyz ). I would like to stress that everyone is welcome at The Blue Moon. Please bear with us now as we make changes to the bar and fine tune everything. With a team like ours that won't take long. Well folks, with the barriers we have overcome these past couple weeks, when everything looked so grim, we are absolutely thrilled that we have come out ahead. Once again, thank you to so many in the community who came to bat for us, supported us and beleived in us these past weeks. Hope to see you out at The Blue Moon very soon and thank you.
July 21st, 2006

JohnDickinson? moves BlueMoonBistro from 2215 Gottingen and renames it BlueMoon. See GayBars for the complicated recent and not-so-recent history of this space.
; November 25, 2006: first MzBlueMoon crowned
; August 4, 2007: Facebook group "Friends and Fans of Blue Moon"created: Halifax's alternatively gay bar, open 7 days a week for your drinking and partying needs! Weekly events include Karaoke nights, special off the hook events during the week, dancing, ridiculously cheap drink specials and drag shows featuring fabulous entertainment.
February 19, 2009

LynnLaurent sent a message to the members of Friends and Fans of Blue Moon: Hi Everyone... Due to circumstances beyond my control, Blue Moon will be closed until further notice. If you have any questions concerning this, please direct them to me either through facebook or phoning me. I am hoping that this will be a temporary issue. Thank you for your support in this matter.
Reviews
Cannot Recommend This Bar
Someone writes, December 22, 2008: This may well be the filthiest bar I've ever set foot in. Fisrtly, the place literally stinks of, well, I'm not sure. There are mouse (rat?) traps strategically placed. Secondly, most of the bathroom stalls have had their doors ripped off. Beyond that, the walls have been punched in, and the place is rarely cleaned.
Additionally, there's no consistency to the place. Punk-ish/alternative bands, clearly aimed at non-regular customers, are becoming the norm. Personally, I can't believe the place is still in business.
[If anyone wishes to disagree with this assessment, by all measn do so. Please do not merely edit out this comment, as it is, from the standpoint of many I've spoken with in the community, an accurate one. If Blue Moon wishes to attract customers, it must do so by providing a venue that (a) is clean, (b) allows women to use the bathroom in a stall with a door on it (crazy concept, I know), and (c) provides entertainment that includes the community for which the bar was created.]
Closed
The Blue Moon is now closed permanently.