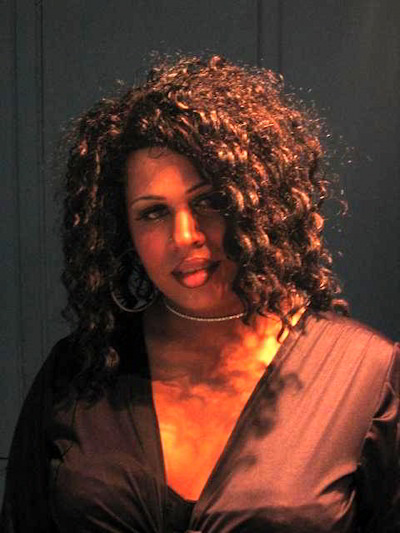 Five Minutes of Fame, 2006-09-21, ReflectionsCabaret
A well-known Halifax drag queen performer, this Glace Bay native, born Chris Cochrane.
August, 2005

She is a new drag queen and the gurls in halifax need to watch out because she is coming in like a storm!!
one hot mama!
JuicyFruit writes: WOW girl, that all I got to say. She took 2nd runner up at this year MzReflections. She will indeed take Halifax by storm.
DivadDivine writes: I completely agree this girl is gonna take this city by Storm!! YOU GO GURL!!! You are an Amazing performer gurl!
Impersonate Lil' Kim!!!! RougeFatale: you are gonna kick ass in this town. and im gonna make sure that heel print is known as yours! loved hangin with you tonight. we are gonna have some fun ;D
One thing this girl needs to learn.......look around you when you are throwing knives at someones back, make sure no one is looking while you do it, Or at least make sure the ones that see you don't like the other person more. Kisses Doll!!
This girl has fabulous talent. Her lip sinc is right on the ball. But has anyone spoken to her about group songs?? Elle likes to do songs by Destiny's Child....ALL BY HERSELF. Does she realize that there are 3 voices and she looks kinda dumb up there doing that. I suppose she does a good job, but girl, you ain't THAT big to qualify for 3 voices. I enjoy her talent, but don't enjoy her group songs or short skirts. (its not the skirts that offend me, its what shows when she wears them). God luv her.
CHILD!...you see the size of Her...She can be all 3 destinys child and the Supremes , girl she can be he own live 8 concert...LOL...love ya elle....Guess who?!...you Valley Sista!...Holler!
LadySchapeau writes: I love this pic, most Chaka Khan
Elle in Priscilla 2, February, 2010
2010, Summer

Profiled in this issue of GazeMagazine

June 14, 2011

Chronicle Herald Woman suffers serious injuries in Halifax shooting "A woman is in hospital with serious injuries after being shot at an Evans Avenue apartment early this morning."
Metro Halifax Woman shot in Halifax home invasion "Police say the shooting of a 25-year-old woman inside a Fairview apartment early yesterday morning by two men pretending to be cops wasn't a random incident."

June 15, 2011

Chronicle Herald Drag queen was victim of shooting about ChrisCochrane? in which she says that two men came to her door, yelled "Trannie, faggot" and shot through the door, wounding her arm.

June 16, 2011

Chronicle Herald You cannot let people like this win "I had a makeup artist, a hairstylist, a wardrobe stylist, everybody showing up just to make sure that I looked good when I was on camera," she said Wednesday. Halifax cops express some frustration: "Investigators have not been afforded the same opportunity to speak with the victim that the media has. Until they get a detailed statement in a formal interview with the victim, whom police have not identified, all they have to go on is what they're hearing in the media and information from some of the witnesses they have interviewed so far, he said."

June 17, 2011

Rally for Elle cancelled at her request. Organizers write: "Maybe during pride week we can pick up and have an event that is directed more towards the trans community, but thank you everyone who was willing to come. Best Wishes, and keep positive."