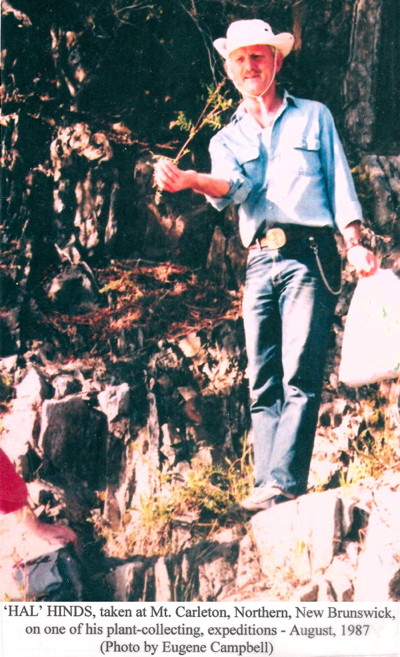 Born Harold Royall Hinds August 9, 1939 in Newton, Masachussetts, he died at the Dr. Everett Chalmers Hospital in Fredericton, May 9, 2001.
By EugeneCampbell?
The late Hal Hinds and I go back a long way. I first met him in 1984 when he was a professor of botany at UNB. I was interested in getting to know more about gay goings-on in the Fredericton area. Too nervous to call FLAG, in which Hal was involved, I wrote them a letter, and soon after, got a reply from Hal (which I still have), and a few days later, he called, inviting me out for a coffee. Over time, we became very good friends.
At that time, I was employed at the Oromocto Post as a writer/photographer, where I had been for a number of years. When Hal released his third book, Flora Of New Brunswick, I was asked to do a profile on Hal, along with a book review, which I did. At that same time, I hosted the Gene Campbell Show, a twice-weekly, half-hour talk-show on the local cable channel, and invited him to be my guest. We shot the show from his place of employment on the UNB Campus, where he was senior botany instructor, and Curator of the Connell Memorial Herbarian. It was here that the botanical displays and archives are kept. He was, at that time, a widely recognized botanist and author.
In time I started travelling around the province with him—camping, hiking, collecting samples of New Brunswick plant life. In fact, I provided the photographs for many of the plant specimens that he collected, and still have copies of a few of them. I still have a book filled with samples of provincial plants, mounted on the pages. Today, close to 30 years later, the plants are starting to become somewhat fragile, even disintegrating in some cases, but I treasure the work, and the memories it invokes. Hal provided identifications for all the samples—probably about 50—found in the book.
I think that perhaps the outing that best stands out in my mind with Hal, was a three-or-four day visit to Mt. Carleton, Atlantic Canada's highest peak, located in Northern N.B. I can't remember what the purpose for the trip was, but still, we had a lot of time to roam the hillside, climb and hike. The picture accompanying this 'look back' was taken at that time. Unfortunately, this was the only shot I took of him—and me a photographer! Sleeping quarters for us, I recall, were somewhat cramped: we slept side-by-each in the back of his old, and little, Volkswagen Mini-Van, but I didn't mind.
The friendship between Hal and I lasted for quite a period of time. We visited each other fairly often—I would go to his home in Fredericton for supper, coffee, or just get-together, and he would call on me in Oromocto for our get-togethers at A & W. But in time, as it so often happens, we began developing other, and new, interests, along with new friends, and we simply drifted apart. We were, at all times, good friends, but things just changed.
In 1995, I moved to Montreal for treatment and hospital care for a serious illness, and I never heard from him again. I guess, in looking back, I probably hadn't heard from him for some time previous to that. When he died in 2001, a friend remembered the friendship that had existed between Hal and I, and sent me the clipping from the Gleaner. I was deeply depressed.

Hal autographed two of his books for me over the years. I also kept an autograph-book in which I kept the comments, and signatures, of the stars, authors and other well-known persons I had worked with. In it, Hal wrote, 'Some of my best friends are plants – Hal Hinds'. He was indeed, wrapped up, if not obsessed with, his interest in botany.
I was, over the years, very fond of Hal. We talked a lot – opened up to each other a lot, travelled around the province a lot – just enjoyed other's company. He was very active in the gay community, and is still remembered fondly by a great many in the Fredericton area, and beyond. Today, all these years later, I still treasure all those memories, and the few keepsakes I have from the time we shared together. He is greatly missed by all who knew him – least of all, me.
Hal was very active in the gay community - at one time, president of FLAG, Friends of Lesbians and Gays, in Fredericton, and in the end, it was AIDS which took his life.
There is a story about Hal & George in the book EatingFire.