Difference between revision 10 and revision 11
Summary: add a couple recent articles
Added:
> ; 2017-02-26 : [http://skippingtothepiccolo.com/2017/02/26/james-franco-movies-true-ex-gay-not-ex-gay/ Anticipating the movie, ''I Am Michael'' an article speculates that he hardly can be considered to be an ex-gay.]
> ; 2017-03-10 : [https://friendlyatheist.patheos.com/2017/03/21/whats-the-real-story-behind-a-gay-man-who-turned-into-an-ex-gay-evangelist/ Patheos.com article expands on this with some more lifestyle observations] and also points out that while we are essentially gossiping about his personal life, he made it his business to damn ours.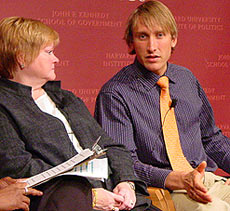 Glatze with Matthew Shepard's mother, Judy Shepard (Harvard University photo)
Native of Olympia, Washington
1998

1998

2000

2004

2007

July 3, 2007

June 19, 2011

February 26, 2017

March 10, 2017
Commentary
July 4, 2007 someone writes: All i can say is that the religion has fucked up another mind. If the bible is so true then why do we have wars and different races. Didn't the world all drown when Noah built the ark, if so the why do we have white and black and asian, etc. If the people were all dead then everyone would look like noahs family and we would all be one colour. Hmmmmm i don't get this religion thing and don't want it.