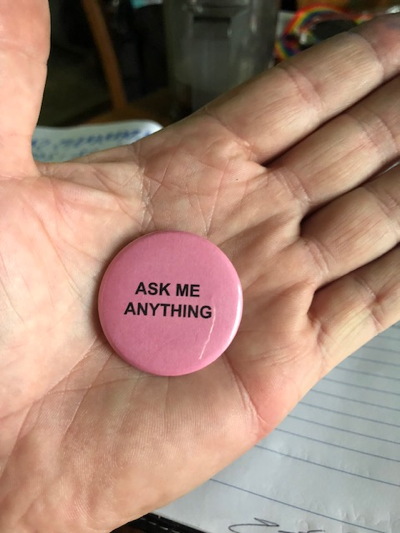 The July 22, 2018 was the first Salon to be hosted by the ElderBerries.
Over a four hour period, broken into 1-hour sessions, participants dropped in for refreshments and the telling of Halifax's rich queer history, met some warriors who worked hard to make Halifax a Pride-ful place, and Ask Us Anything about what it was like, what it felt like, how we lived and loved and worked to change the world. over the course of the afternoon, about eighty people of all ages sat back and listened to the old-timers tell stories about the good, and bad, old days, around a big table.
The (Queer) Salon, epitomized by Gertrude Stein and Alice B. Toklas in 1920s Paris, provided a safe haven for queer people to meet and more, to hear stories, entertain each other, and indulge in queer culture in a day when such love dare not speak its name. This event is part historical recreation, harkening to the Paris of the 20s, so integral in shaping the queer culture we know today.
Speakers: JJLyon, RobinMetcalfe, LynnMurphy, BarendKamperman, EricSmith, MikeSangster? & LauraShepherd?
Moderator: LauraShepherd?
Audience Count
Session 1: 37 + 6 standing
Session 2: 37 + 5 standing
Session 3: 32
Session 4: 37
We distributed about 20 of ScottMacNeil's ReflectionsInAMirrorBall.
Generously sponsored by Halifax Pride. Thank you Halifax Pride!
Audio Recording Topic Index
(link to audio recording is below.)
0:00

Preramble

0:19

JJLyon autobiography

0:46

Also a specific thanks from EricSmith for JJ's time as receptionist at the Persons With AIDS Coalition

0:48 - 1:00

EricSmith autobiography ; 1:24 ; MikeSangster? talks about the early days, naming DaveBragg?, Diane, AnneFulton, TommyBurns, TommyMiller, ; 1:28 ; RobinMetcalfe talks about the beginning of the Society and activism at about .

1:35

MikeSangster? and the whole group, and EdSlade talks about being gay at work, and LynnMurphy about being bi making it easier to be in the closet, at about

1:56

EricSmith mentions AnitaMartinez

1:57

GaeGala, the club, police, security, violence, gaybashing, ShirtlessnessDebate

2:03

Lynn talks about RedHerringBookstore

2:06

How did women meet?

2:07

Gay neighbourhoods? Meeting places?

2:30

Were there groups of people living together? Enclaves? GreenLantern Building

2:40

The beginnings of the AIDS crisis & responses, DrBobFredrickson, MacAIDS, AnitaMartinez & Eric talk about Craig, the first AIDS patient in Halifax, a real character. JJ: "All the men that I expected to spend my senior years together are not here. I love these opportunities to meet the ones who survived, because there are less and less." GaetanDugas, RandGaynor, Head of Infectious Diseases at the VG Hospital, Dr Walter Schlech, Ward 8A, living with AIDS

3:00

Bad sex education, Phyllis Sweet at the Red Door in Kentville

3:05

"Bi", LGBTQ, "queer", terms & language

3:36

Vintage Trans Issues. Trans role models.

3:38

Different "treatment" models for trans folks, changing attitudes towards trans folks
Audio Recording
Sessions (recording minute mark)
Session 1: 0:19 - 1:00
Session 2: 1:20 - 2:10
Session 3: 2:29 - 3:17
Sessoin 4: 3:35 - 4:12