November 15, 1961 - July 29, 2017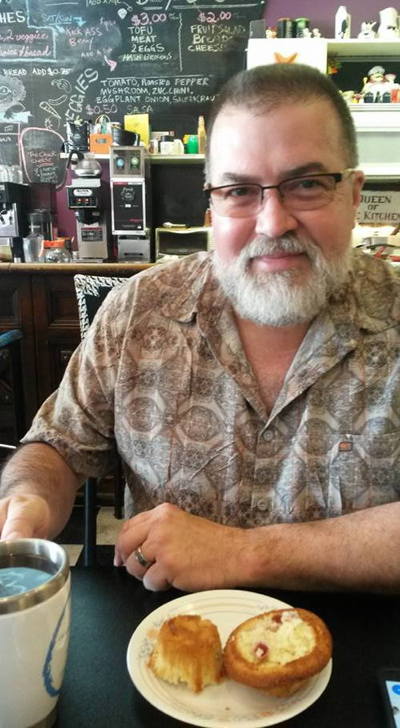 June 2016
His one-sentence self-description: "A true Scorpio through and through (look it up). Born in Sault Ste Marie, Ontario grew up in northern New Brunswick. Lived in Ottawa, Toronto, Montreal, Bathurst, and from 2003 'til 2014, I called Halifax home."
In 2002, Doug moved to Halifax and took the city by storm. He had visited the city the year before and was smitten, and decided to move here permanently and arrived bursting with ideas and enthusiasm for the queer community here. Shortly after he launched another bath house for the city, SeaDogsSauna, which he stated was equal parts a business and a facilty to sane, healthy sex for the men's community.
At the same time, he was finishing the plans for a big business in the city - MollyzDiner and MenzBar, which opened a few years later.
He also arrived with steamer trunks filled with chachkas that he had gathered, he said, over the previous ten years to get ready to make the three places so great. He had the themes for his bars - Menz Bar and The Partz Department were stylistically separate.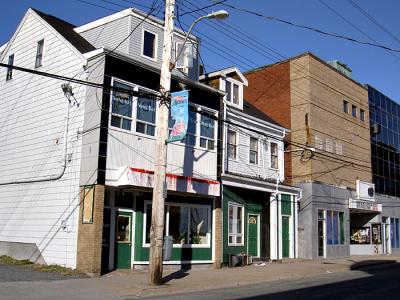 2014 Gottingen - Mollyz & MenzBar The first incarnation of Doug's dream was a three storey LGBT at the corner of Gottingen and Falkland. The building had been the site of several moderately successful bars for the men's community for the previous decade.
Doug had designed the place so that during the day, Mollyz would be mostly busy with restaurant business, and then be used by the women's community at night. Above it, Menz Bar, and above that, The Partz Department, each quite stylistically separate. The latter had a rooftop deck that was crowded during the summer.
The building's owner, however, eventually redeveloped the lot, and Doug moved the businesses to the enormous second floor of 2182 Gottingen. Mollyz shrank over a couple of stages, and the bar part expanded to take over the allocated space.
Doug enthusiastically supported every LGBT endeavour that was proposed, and if asked, had helpful advice about how the event could run better or integrate with his businesses. He was generous with his time, his business space, and with money, sponsoring innumerable large and small projects, and was a steady advertiser in WayvesMagazine.
Anyone living in Halifax in the mid-2000s will remember consistent rave reviews of Molly's Diner - the menu wasn't huge, but everything on it was exceptional. "My community here deserved something a little better, a little more upscale, and a little more edgy. It's a diner, not a gay diner, and it's gotten rave reviews." he said in a 2007 interview.
Also in the late 2000s, Doug worked tirelessly with, and sometimes butted heads with, the Halifax Chamber of Commerce, combatting homophobia-flavoured conservatism andinsisting that the LGBT community be represented there - not as a separate LGBT Chamber of Commerce, but included as a category with all their other categories; eventually he prevailed.
In 2012, he announced that he had promised Halifax a decade, and that time was up, and moved to BC. He was back in 2017, and was very public about his cancer diagnosis and very limited time with friends and family, and made the most of that.
Plans for Doug's celebration of life will be announced shortly.
January, 2007
This page NeedsBio and is in CategoryPerson.