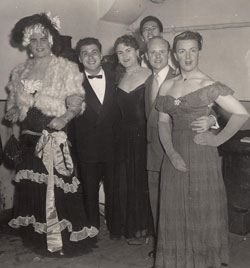 Hello Sailor: The Canadian Edition
Oral History Project
Maritime Museum of the Atlantic, 2011
FORMER SAILORS, NAVY or MERCHANT MARINE FROM THE 1950s ON
The stories of gay life at sea are mostly only known by other people, gay or straight, who have been to sea. Historians and museum curators have not explored the experience of Canadian gay seafarers in any depth.
The 2011 Maritime Museum of the Atlantic exhibit is based on the Merseyside Maritime Museum exhibit in Liverpool, U.K. Hello Sailor: Gay Life on the Ocean Wave which explored the work, lives and culture of gay crew members on British merchant ships in the mid-twentieth century. Based on scholarly and oral history research, the Merseyside project found that ocean liner steward departments provided a safe and welcoming home and workplace, a "gay heaven" at a time when gay men faced harsh social repression and legal persecution ashore.
To add to the UK based exhibit, the Maritime Museum conducted oral histories documenting the gay seafaring experience in Canada; the information gathered was be incorporated into the local exhibit. The exhibit was curated by Don Conlin, and local stories were collected by PhD? students, Emily Burton and Bob Harding. A call was put out and eventually five queer seafarers (ChrisCochrane?, WilliamAndrews?, FrankLetourneau?, BrysonSyliboy? and HelenMcFadyen?) were interviewed, and from their stories the new text was developed.
The information and materials collected will become part of Nova Scotian heritage. The research and exhibit told the stories of gay life at sea to a wider audience.