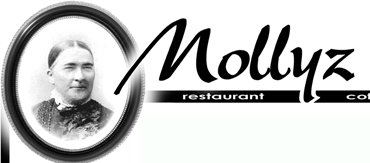 Mollyz DINER & BAR Licensed Caterer "Mollyz Hitz the Spot" HFX-The Daily News
 In the Heart of Halifax's Gay  Village
 2182 Gottingen St,
 BOOK YOUR PRIVATE PARTY NOW!
 902-405-3376
 Check Out our New WEBSITE: http://www.MollyzDiner.ca
FREE Internet / WiFi 7 DAYS A WEEK
Kitchen Hours
MON-WED 11am till 9pm
THUR 11am till 10pm
FRI: 11am till 11pm *BAR till 2am
SAT BRUNCH MENU - 8am till 3pm - Diner till 11pm * BAR till 2am
SUN BRUNCH MENU - 8am till 3pm - Diner till 10pm New LUNCHEON Specials &
Daily Features
Mondayz - BURGERZ & MOOSEHEAD Night
Tuesdayz - MOLLYZ YOU PICK - PASTA & WINE Comboz
Wednesdayz - WINGS & MOOSE Draught
Thursdayz - All U Can Eat Mussel & MOOSE Night!
FISHY Fridayz - Mollyz BEER BATTERED Fish & Chips & MOOSE Draught
Saturday & Sunday - BRUNCH Menu 8am till 3pm
History
MollyzDiner took over the first floor at 2104 Gottingen, which was previously the home of Wayne's Place and the Apple Barrel Cafe. Mollyz opened in March 2005 and expanded into the adjacent space (see MollyzAnnex) in August 2005.
Prior to its opening, owner DougMelanson (also the owner of MenzBar) described Mollyz as "diner by day, dance bar by night" and also indicated that it would be targeted to MenzBar's growing female customer base. Mollyz never really becamse part of the bar; on the other hand, it did become known for excellent meals and reasonable prices.
16 November 2006, TheCoast published a very favourable review of Mollyz - see MollyzReview.
"Mollyz Hitz the Spot" HFX-The Daily News