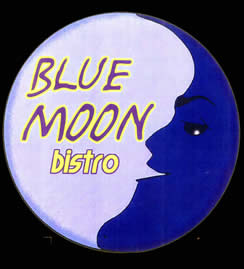 History
; October 2005: [[Christopher_Robinson?]] and [[John_Dickinson?]] take over the ground-floor space as a queer friendly eatery at the front of 2215 Gottingen as Blue Moon Bistro & Back Bar. The space was most recently ShowTunes @ ClubNrg, and before that, MobeysEatery @ VorTex space. "The biggest thing now is to get our own decor and the style that we want in the restaurant," says Robinson. As for the menu, BlueMoonBistro (a sister company of InGoodCompanyCatering?) will serve a range of "gourmet comfort soul food." "It's my personal twist on taking food we grew up with," say Robinson, "like the grilled cheese sandwich and tomato soup, and taking it to the next level -- making it a tomato Parmesan soup with grilled cheese on sourdough bread with Montreal style bacon and smoked Gouda." Robinson is a Cordon Bleu-trained chef who's hoping to bring some big-city flair to the Gottingen scene.
; March 2006: DJ now every weekend in the back bar, dance till 2 am, no cover phone 446-3644
; April 2006: Blue Moon Bistro (2215 Gottingen St.) is pleased to announce its new back bar (a speakeasy) open 8 pm-2 am every Thursday, Friday and Saturday nights. Come for the great food at great prices in Blue Moon's front bistro and stay for $2 well shots from 10:30 pm-12:30 am and dance to all your favourites from the 80's, 90's and the new Millennium. There is NEVER COVER for the back bar with the exception of special events and private functions. This is a bar where the gay community IS WELCOME.
; July 2006: changed name to BlueMoon and moved 2099B Gottingen St, the original Club NRG space.
Commentary
Feb 2006: Someone writes: I dont know what is better the food or John the owner, either way i like the meat.
JuicyFruit writes: OMG, this is a grand place to hang out. The atmosphere is relaxed and its simply a place where one can have a drink and relax. Definitely one of my places to chill with friends. Not to mention the staff in my opinion just add to the atmosphere.
KirkLewis writes: This time the bar was done right. John seems to know what he is doing and continues to listen to people. That is why people are getting what they want. I hope this place continues its success.
Menus will be posted when they are open in their new location.