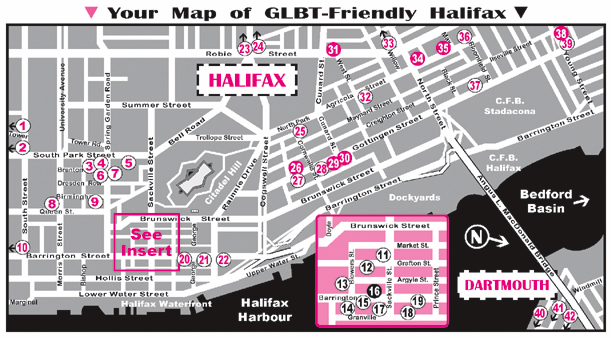 2006
---
A number in double parentheses: for example ((3)) indicates the number on the map
Directories
Accommodations
Fresh Start Bed & Breakfast (Map point 37) is gay, 2720 Gottingen Street, 453-6616
The Commons Inn is not exactly a hotel, I'm not sure what it is, but it's a good place for travellers to stay, right in the middle of what tiny Village we have: 484-3466
Halifax Backpackers Hostel is gay co-owned. Clean and nice Private Single Rooms starting at $35, Private Double for $50. No CURFEW! Take a look: http://www.halifaxbackpackers.com/
RoostersGlenBedAndBreakfast (Map point 40) in Dartmouth 462-1300 toll free 877-774-4999
SeaDogsSauna (Map point 29) has affordable rooms for overnight - male only
Looking for queer accomodations elsewhere in Atlantic Canada? Check out http://www.intellis.net/lairbear/bandb.html
Baths
Bars
Restaurants
Delicious Deliveries Take Out Wyse Rd Plaza, Dartmouth
JanesOnTheCommon (Map point 31) at Cunard & Robie
Real Estate and Inspection Services
Other Businesses
UrbanMood? Communications Group [Graphic Design Studio] http://www.urbanmood.ca
AromasAtlantique poppers and lube by mail
DestinationFabulous: Beautiful things for Drag Queens and everyone.
FRED. (Map point 34) Hair salon, art gallery & cafe on Agricola at North.
HillcrestVolkswagen VW Dealer is a longtime supporter of the queer community
LouanneCooper - Wedding and Scenic Photographer mailto:loulavega@hotmail.com
MissLolasBoys housekeeping shopping & other services for gay men
RandyBullerwell? youth worker, facilitator, educator, motivational speaker, and a promoter of sexual diversity and human rights in the school, community, and workplace, addresses the reality of social and health issues today, from Gay, Lesbian, Bisexual, Transgender, and Two- Spirited (GLBTT), to Understanding Today's Youth Culture, to Health Promotion, Depression, and Bullying. http://www.healtheduc.ca/
MServices Massage Halifax 229-3460 mailto:MServices@hfx.eastlink.ca http://www.seadogs.ca/m_services/
Superior Travel, WomenInMotion Travel Agents & Event Producers for women
TheWeddingChapel performs gay unions
The Gay Piper (Great Highland Bagpipe): Piper for hire for weddings, etc. Contact RonGarnettDoucette at mailto:ab274@chebucto.ca
VenusEnvy on Barrington St is YOUR queer products store!
WolfgangLeathers leather store, custom creations, and tailoring
Adult Cash and Carry 19 Pettipas Drive,, Burnside. Great products, at good prices.