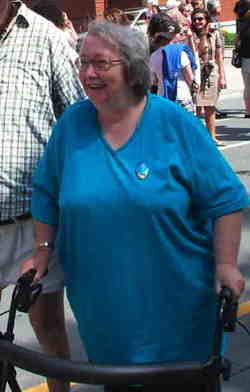 At the 2009 Pride Parade. Photo by Reg Giles
B. 1946. BA, Saint Dunstan's University; BEd, University of Prince Edward Island; MLS, DalhousieUniversity; certificate in archival studies. Experience in university, special, and public libraries; freelance bibliographer.
Interests : local history, mystery fiction, travel.
Within Gae/Gala: the Executive, Management Board, Civil Rights Committee, and several PrideWeek Committees, both with GALA and after it ceased.
Active with the WildeBunch; Atlantic History and Archives Network (a gay/lesbian group, despite the nondescript name); and two one-year initiatives, the Making Waves Collective, and the Sisters' Lightship Collective.
2010

active in the founding of the NSRAP Seniors Social Group, later ElderBerries: helping to organize a monthly Potluck Social, and editing the monthly email newsletter.
Favourite drink: retsina
This page NeedsBio and will be part of the HistoryProject.