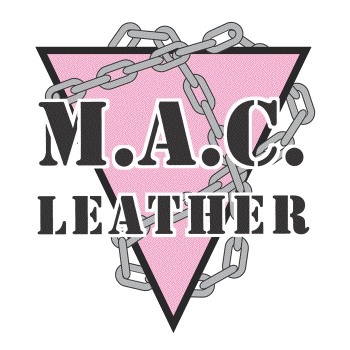 Logo designed by MACL committee, executed by Chris Aucoin
Are you turned on by the look, smell or feel of leather? You may be one of this city's LeatherMen!
Each monthly leather night has a slightly different focus - boots, uniforms, hankies, locker room / sportsgear, leather bears, etc. as well as contests and prize draws. A leather / uniform / fetish dress code is encouraged (check LocalEvents for more details) but not required.
Halifax Events
For more info, check for items marked MACLeather on the page on this system called LocalEvents. You can also join their facebook group.
History
Nov. 1999

JimMacLeod organized the first competition

1999/2000

No. 1 DonMurchy? (1st place)

2000/2001

No. 2 Leith Chu (1st place), RichardLavigne? (2nd place), ChrisDoucette (3rd place), GlennDeGeer and JimMcGrath also ran for this title

2001/2002

No. 3 SteveLaviolette (1st place). DanielMacKay has a set of fifty photos of the event at ReflectionsCabaret.

2002/2003

No. 4 MarioBourgeois (1st place),

2003/2004

No. 5 RandallPerry (1st place), MikeTeal, DouglasBasque?, WayneColson?, FrederickGray?, RejeanLeClerc, DavidMacMillan, RussellMitchell, MauriceNowlan?, WayneToole and IrlWashburn? also ran for this title.

2004/2005

No. 6 WayneToole (1st place)

2005/2006

No. 7, "Survivors" CecileOuellette (Ms. Atlantic Canada Leather 2006) and BoydGauvin (Mr. Atlantic Canada Leather 2006). Other contestants: ArtVautourToole?, DebbieWills, GrantLively, MikeGoodwin, ElinorCrosby, RejeanLeClerc, RobMyers?, RyanAuld. Judges: RandallPerry, PaulLeBlanc?, JamieGallant?, JayneSchmid?, DouglasConnors?.

January 2006

WayneToole, vice chair takes over as Chair.

2006/2007

No. 8: "Back to Basics", Moncton NB; Marcy Walton [Ms Atlantic Canada Leather 2007], and Rob Myers [Mr Atlantic Canada Leather], other contestsnts were Art Vautour-Toole[Fellowship Award],BJ Maclean,and Laurent Legacy

October 2006

Laurent Legacy takes over Chair, Wayne Richard-Vice Chair, Robert Mainville-Treasurer, and Paul LeBlanc?- Secretary.

September 2 2007

No. 9: "Pirates of the/du Chaleur, 1800-2000, Petit Rocher, www.gngnb.ca Ms Maissie Walker and Mr Rick Arseneault, both independent contestants from the Miramichi, won Ms/Mr Atlantic Canada Leather 2008 at the "Pirates Of The / Du Chaleur" Contest at Camp Ectus. Ms/Mr Fellowship 2008 are Diane Leblanc from Moncton and Troy Morehouse from Saint John.

February 24 2008

Annual general meeting, Parkhouse Inn , Moncton NB, 1PM

July 16-18, 2010

12th Annual Mr. & Ms. Atlantic Canada Leather held on Prince Edward Island