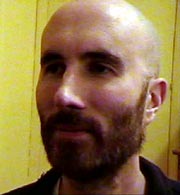 MORSHEAD, Peter Scott - 42, Halifax, passed away suddenly on Monday, December 27, 2004. Born in Halifax on July 28, 1962, he was the youngest son of Charles and Geneva Morshead. He is survived by his parents; brothers, Barry and his wife Karen; and Stephen; nieces whom he adored, Andrea and Alyssa, all from Halifax. He will be greatly missed by family and friends. Peter was predeceased by his brother, Eric. Cremation will take place under the direction of T.K. Bernard Funeral Home. His ashes will be laid to rest in St. John's Columbarium, Halifax. No flowers by request. Memorial donations may be made to the Red Cross Disaster Fund.
I have been asked by Peter's family to try and let his friends in the gay community know that Peter has passed away. Peter apparently fell while showering and drowned on Monday 27 Dec. I believe Peter went on-line as "Jockbootman".
---
Peter had a story published, "Stone Cold Steve Austin\x92s Ass\x94 in Buttmen II http://www.westbeachbooks.com/buttmen2.htm
His bio there reads, "Peter Morshead (\x93Stone Cold Steve Austin\x92s Ass\x94) lives in his native Halifax, Nova Scotia, and has been an avid fan of the male butt most of his adult life. \x93On the street, in the gym, on a university campus, or in the stores, there\x92s lots of opportunities to scope out a great ass.\x94 Morshead thinks some of the greatest butts of all time belong to runners, cyclists, gymnasts, body builders and wrestlers. This is his first published story."
---
from http://www.io.com/~qsb/mike/mike3.html Peter - 02/13/98 07:04:58 My Email:jockbootman@hotmail.com Where are you: Halifax, Nova Scotia How you got here: surfing Your music: Social Distortion, SugarRay?, Rancid, thrash, hard rock, Elvis, Stray Cats, any rockabilly music Boots and lace color: combats, military, docs, black laces
Comments: Oi mates: there is a major fucking shortage of skin mates in Halifax, Nova Scotia, especially skins into meeting other skin mates for hot aggro action and sex. The oi scene in Halifax is fucking pathetic! Come on mates, shout it out! Where are the lot of ya? No bars here play ska or oi music. And there's no skin nights at any bars here. I've lived in Halifax my entire 35 years and it looks like it ain't changing any time soon. I'd like to hear from other mates, especially in the Halifax or Nova Scotia area about how and where to meet other skins. thanks.
---
from http://bearforest.com/ Name: jockbootman Age: 41 From: Halifax, Nova Scotia Canada
Bear lovin dude in Halifax Hi all you sexy hairy bears and otters. I'm Cowboy Pete in Halifax, Nova Scotia. I'm 41 and i'm 6'1" and a lean 160. Don't hold that against me, guys...that is, unless YOU want to hold your body against mine. Heh heh. Anyway, enough cheesy humor. I have a shaved head and neatly-trimmed beard, with blue eyes. I am heavily tatooed. I have a trail of hair from my navel to my crotch. Hairy ass, hairy legs. I wear size 11 boots. I like blue collar straight-looking masculine men, and i also have a kinky side to me. Have a fetish for boots/socks/feet, also leather. My favorite drink is Jack Daniels, and don't mind a toke or a whiff of poppers. I'm seeking masculine gay or bi men for friendship and fun and emails. No married guys please! I have my own place and can entertain. Prefer guys with facial hair. No clean-shaved guys. Hairy chest, pits, and stomach a definite plus, and i go absolutely weak in the knees over hairy arms and hair on the backs of the hands. All body types welcome, from slim to a bearish beer gut. Let's get naked under the covers and keep warm.