Thackeray's Restaurant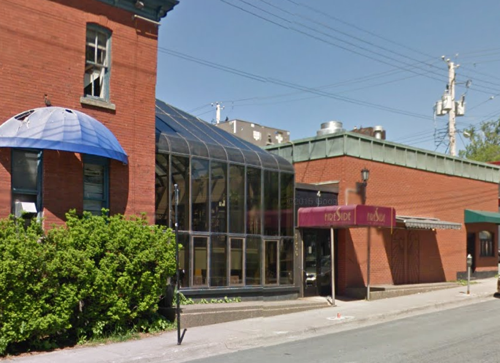 Thackeray's was in business at 1500 Brunswick Street approximately 1981 - 1998. In the 1980s, LGBT folk and others in Halfiax began to notice severe homophobia from the management - specifically, anything other than "straight couples" were refused service.
In 2012, the original owner, Don Webster, bequeathed the entire business to Wendy MacPherson and Rick Shanks. MacPherson became secretary-treasurer of the business, and Shanks president. On March 19, 2016, the building and the rest of the block it was on, was demolished.
JanetConners writes
In 83 or 84, I was there with a woman friend, and we were told that we would not be served, because they had a rule against serving two women dining alone together. I was just a dumb, uninformed young woman, and I remember being outraged that the rule was about being gay. I suppose the person who wouldn't serve me, presumed I was gay -- they didn't ask.
ScottMacNeil writes
After winning the bronze medal at the 1988 Winter Olympics for ice dance, my good friend Rob McCall? called and wanted to go out and celebrate. We agreed that Thackeray's would be a good starting point -- but we weren't served, because, we were told, that Thackeray's had a rule against serving 2 men dining alone.