Location: 2199 Gottingen St (near Cunard)
Official web page: http://www.seadogs.ca
The spa is open from 4 pm until 12 am Monday to Thursday and 24 hours on the weekend. The hours are extended for special occasions (i.e. PrideWeek).
Three types of rooms are available: the standard, or change room, is similar to those of a typical gay sauna, with an open ceiling and lockable doors. All rooms have a full-size locker. The 39-inch bed has a real mattress, with a sanitary covering and a sheet. Even a pillow is included. The next step up is private's quarters, which are completely enclosed, with a mirror, locker and single bed. Deluxe rooms (only 1 at the moment) are also fully enclosed, with a mirror, VCR, and double bed. There are also forty-five full-size lockers.
Other facilities include a dry sauna, a TV lounge, an Internet terminal, a sling room at the back of the building, jail-style labyrinth, a hot tub for 7 or 8, vending machines, and a health information section away from the main traffic of the bath. Washrooms, showers, and free condoms round out the offerings. Seadogs is totally non-smoking.
SeaDogsSauna is licensed: a selection of domestic beer, Corona, Rev and Menz Pale Ale, which "Boss Dog Doug" commissioned for busineses MollyzDiner and MenzBar.
Rates and promotions are available at the main web page, above.
History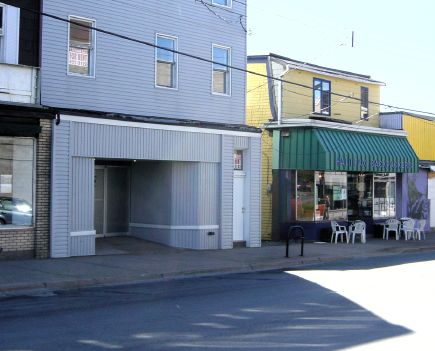 2004
Seadogs Sauna And Spa opened at 2199 Gottingen St in 2003 right next to the Halifax Backpackers Hostel. It's upscale - a showcase facility for Atlantic Canada. Colour throughout is navy blue, red and white. The wet areas are all white, emphasizing cleanliness. Marine lights and anchors help reinforce the nautical theme, appropriate for a port city. Overall, the image is Clean, Safe & Secure.
See BathHouse if you don't know what a gay bath / sauna is.
Why a new sauna in Halifax? Owner DougMelanson had been thinking about a new business for the last 3 or 4 years. He was looking for something linked with the GayCommunity, and a spa is definitely a community facility. Besides being gay, Doug is a businessman. He's owned companies ranging from antique stores to Christmas tree plantations, and he expects Seadogs to make money.
In the summer of 2002, when he decided to move from Ottawa to the East Coast, he had looked at Moncton and Halifax. Originally, he thought of opening a new bar in Moncton, but after spending a few months looking at opportunities there, he shifted his focus to Halifax. Halifax had more attraction to him both personally and as a business proposition. He looked at spaces available and different types of businesses. As part of this process, approached the owner of the Apollo to see if he was interested in selling. He wasn't, but Doug felt Halifax had room for two saunas. He felt the time was right for Halifax to have a sauna more similar to other major cities across Canada. He intends Seadogs to focus on travelers, as well as the local community.
The national network between baths will help advertise the new facility, and attract customers. The Seadogs website, above, has links to all major saunas across Canada. It's all part of the business strategy.
As of Monday, March 3 [HistoryProjectTodoList: what year?], SeaDogsSauna became licensed, selling a selection of beers.
---
This is one of many GayBusinesses and ways of MeetingPeople.