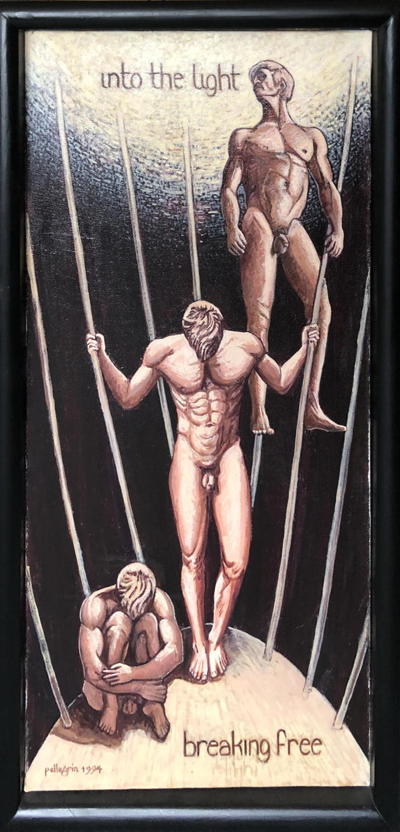 Breaking Free Into The Light, 1994
Rev. Dr. Victor Bruce Holker Pellegrin
B. September 2, 1937
Rev. Dr. Victor Bruce Holker Pellegrin, PhD, has been painting since the age of six when he lived in British Columbia. Bruce was inspired by the interpretations of colour and light by artists in the Group of Seven, Emily Carr in later years, and the Canadian Naturalists.
Himself a minister in the Anglican church, Bruce's art is an expression of the sacredness of life and the presence of spirituality in everyday surroundings. Though the vast body of his work has focused on Canadian landscapes, often in the Maritimes, Bruce has done considerable work in iconography and historically themed works. Bruce's art can be seen in the Atlantic School of Theology, St. Croix and Saint James Churches in Hants County, Christ Church in Dartmouth, and St. John's Anglican Church and the Cathedral Church of All Saints, in Halifax.
His art website, http://www.brucepellegrin.com/ should be available in The Internet Archives.
Breaking Free Into The Light
RossBoutilier writes: This item is significant and archive-worthy because:
The liberation of LGBTQ+ folk has a painful history of separation from the faith community of birth; Safe Harbour MCC church (with a special mission to LGBTQ folk) began in Halifax and held its early meetings in the local AIDS support offices; it was coined "The Bare Naked Church" by the young son of one adherent because the walls of the offices were festooned with gay male sex positive imagery.
The local struggle for liberation was not just about demonstrations, parades, bars, legal challenges, and the struggle for social acceptance, it was very controversial in the local communities of faith – a struggle that continues.
Creative expression is a common response to oppression, whether reflecting outward societal struggles or individual struggles with faith and self- wholeness. This painting celebrates the dream of freedom from the bonds of oppression, claiming both sexual and spiritual liberation.
As such the piece was unusual, and a heresy – and was kept hidden; there was fear it would be destroyed.
While this image is specific to gay male experience, it does present the question of what other kinds of less visible creative expression can be found in local history, for lesbians, bisexuals, the transgendered, etc.