Halifax Dyke and Trans March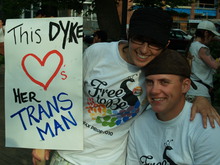 July 23, 2010

First organized by MaryKateArnold?: "On Friday, July 23, 2010 (i.e. Friday during Pride week) from 6:30 to 8:00pm, Halifax will host the first Halifax Dyke and Trans March. The march route will start at Victoria Park and end on Gottingen Street.
The Halifax Dyke and Trans March is a political demonstration where we take to the streets to promote visibility and create space for queer women and trans people, protest the oppression of members of our diverse communities, and celebrate our strength. The march is open to all women, whether they identify as dykes, lesbians, gay, bisexual, trans, queer, questioning, asexual, or something else, and to all transsexual, transgender, intersex, and two-spirited people. Allies are encouraged to show their support by watching and cheering from the sidelines.

2011

Renamed to: DykeAndTransMarch!