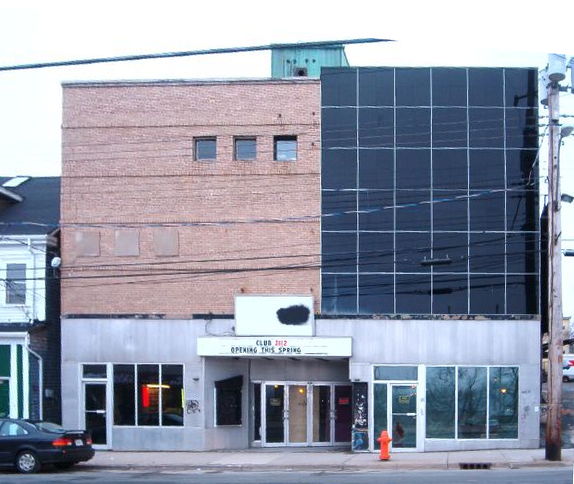 2004
---
A Brief History Of 2112 Gottingen Street
1935 (ca)

Community Theatre, 600 seats, at 208 Gottingen (old street numbering.) Closed about 1947.

April 29, 1948

opened as The Vogue by Franklin and Herschorn, 936 seats

1970

sold to Famous Players

1972

renamed Eve; the only adult movie theatre in Halifax

1974

renamed The Cove

August 25, 1985

The Cove closed

1986

redecorated as an alcohol-free youth alternative music club, Club Flamingo. The name was registered on November 17, 1983 by Greg Clark and William L Burke. In 1986 Keith Tufts & Derick Honig reregistered the name with a Maritime Center address, and renamed it "Pub Flamingo." The venue had a repertory cinema element and an intended record label too—Flamingo Records—though Out of the Fog was the first and last release. (Clark says, "Getting involved with one band was a bit of a conflict of interest in terms of trying to promote everybody. There was volatility.") Clark, Tufts and Honig also launched a short-lived entertainment magazine, New Works, that lasted about a year.

1987

The gay community, GALA bought it and Rumours moved in, with more or less the same setup and decor as Club Flamingo.

1995

?? - February 26, 1998

March, 1999

MilleniumBar moves in, closes in July, 1999

Some time in 2000

Starts getting used for raves under the name Filter.

2003

ditto, Club Red

April, 2004

the plastic letter board reads: Club 2112 Opening This Spring

June, 2004

the reference to Club 2112 is removed from the plastic letter board. Opening This Spring remains.

August, 2004

the sign now reads Open Sooner or Later.

February 15, 2007

TheCoast article "Punch it up" says, "Mickey MacDonald, a local entrepreneur and businessman, has purchased the building and is turning it into a boxing gym. He plans to call it Palooka's Gym, after the titular boxing hero in the Joe Palooka boxing comic strip from the 1930s." MacDonald was appointed chair of the Nova Scotia Boxing Authority in February, 2006.

October 16, 2007

CBC Information Morning piece with MacDonald says he's stripped the asbestos, put on a new roof, and the new boxing gym, "Joe Palooka's" is about 75-80% finished.

August 8, 2011

Palookas announces they will cease regular operations as of October 31, 2011

January 4, 2012

Building has been sold to Shaw Television GP Inc., who confirms that Global Maritimes will move there from Burnside. The new studio is expected to be operational by September.
A much more complete history written by LynnMurphy can be found in the archives of WayvesMagazine.
This page is part of Rumours, GayBars, and HistoryProject.