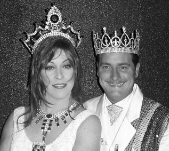 with Emperor John Ribson
Tatyana Romanov is a perfectionist, both as a boy and a girl. She is a wonderful performer noted in Halifax for doing Whitney Houston and a flawless Mariah Carey. In Toronto, she became Empress VI of Hamilton Wentworth in the year 2000.
As of February February, 2005, lives in Toronto.