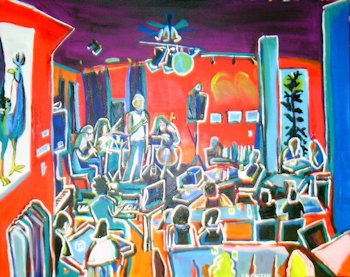 Live painting by Sharon Hodgson
The Company House
January, 2009 - September 5, 2017
The Company House opened in January, 2009 at 2202 Gottingen Street. MaryAnnDaye owned and managed this acoustic music venue showcasing musicians, both emerging and established, from the local area and all over North America.
The CoHo, as it was affectionately known, was a community space welcoming visual artists and other groups wishing to host events in the space; from fundraisers to book readings. It hosted its first lesbian wedding on August 8, 2009!
History
2008
Opened by long time community and music event organizers MaryAnnDaye and HeatherGibson?.
In an article from The Coast's ShopTalk on December 22, 2008

Halifax is a music city. Some say it's the Atlantic Ocean, others believe it's the endless winters, the source or reason doesn't matter to MaryAnnDaye. She just hopes to foster it with The Company House.
"My official deadline is to be open for the In the Dead of Winter Festival (January 27, 2009 - 31)," says Daye. "Music is first for me, as there is a lack of good spaces for live acoustic, singer-songwriter to perform. I know a lot of musicians and they are just crying out for somewhere to play. I want to make that happen."
Construction is well underway at The Company House, formerly home of The Galleria, as many local artists, including: Jenn Grant, Don Brownrigg, TanyaDavis?, Daniel Ledwell and Kev Corbett have all got their hands dirty.
As you enter the building the bar is to the right of the spacious venue, a corner stage is elevated to the left, but it's the deep red painted walls that should tug at heartstrings. The deep shade is reminiscent of the walls of the legendary KhyberClub, formerly operated by Daye's partner and In the Dead of Winter founder HeatherGibson?, which was abruptly forced to close in February, 2006.
"There has been an amazing outpouring of support from the community that wants to be a part of this," she says. "Everything that's happening in this area, Gottingen is going to be what it once was – the main drag in Halifax."
June 2016
The CoHo is sold to a straight couple, EmmaLeigh Rivera and her husband.
April 2017
Comedians during the "Laugh House" event make offensive jokes about transgender and nonbinary people. One of the comedians made jokes about his ex, a transgender/nonbinary person, and suggested he would "warn" the other comedians about them; others made trans and racist jokes. Some members of the queer community began boycotting the bar. It did not host any Pride Week 2017 events.
August 2017
Rivera announces that they are closing the CoHo; owner EmmaLeigh Rivera said from the beginning, there was ongoing concern that the space was being taken away from the LGBTQ community. That escalated to a boycott and then harassment following the April comedy performance. "It's been just kind of ongoing harassment... People had lots of feelings about that and taking that out on us, calling us very horrific names. They knew a lot of personal information about my family's whereabouts and things like that. It's been a bit of a struggle," Rivera said.
In a August 14, 2017 interview with the Metro News, bar manager Russo said, "changes to the bar, like hiring two straight male bartenders, were not received well. Three or four people then escalated the harassment by threatening Rivera over the phone as well as online. Pictures of Rivera's 8-year-old daughter's classroom, along with her class schedule, were sent to her with threatening messages. They also went after Rivera's parents, Russo said, confronting them in a grocery store parking lot and calling their daughter transphobic and a white nationalist.
Áine Morse, a non-binary trans person and advocate, said the boycott was only intended to start a dialogue with the new owner about being more LGBTQ-friendly - not lead to any harassment or closure. "I think it's a real shame," Morse said, "This was the outcome that nobody really wants to see from a boycott, that's not the point. We wanted to be able to engage with them and talk about what was the problem, and why it wasn't okay, and ways to move forward and now we will never get that opportunity."
The website was www.thecompanyhouse.ca. it was offline when checked September 4, 2017.
This article is part of the HistoryProject