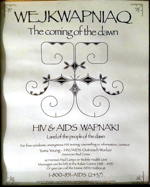 Tuma is Assistant Professor, Mi'kmaq Studies at Cape Breton University in Sydney. He was the first indigenous person to become head of the Nova Scotia Barristers' Society (, 1921), and as far as is known is the first Mi'kmaq speaking lawyer in Nova Scotia history.
He was also leader of the 2020 Secret Pride March, held during the year that the usual community Pride Parade was cancelled due to COVID-19. The Secret Pride March was organized by Elderberries to preserve continuity of Pride Marches in Nova Scotia..
The Encyclopedia has "My Story" from January 30, 2012 on file.
Early 1990s: HIV/AID's outreach worker for the American Red Cross in Maine's Migrant Blueberry Camps. I handed out condoms, did needle exchanges, bleach kits, testing & counselling plus my famous AIDS Bingo. The Wabanaki double curve design denotes coming together in ceremony & that was my overall approach: do not be scared, learning about HIV/AIDS & protecting yourself is actually a ceremony. The late Patrick Walsh of the Bangor Red Cross, a straight man, took a huge risk in asking me to do this project as he could have been fired. When he hired me, I told him that I needed condoms, needles & bleach kits so I can do a proper job. This was not allowed but he managed to get these for me. We ended up winning the American Red Cross National Award for our project & it was modelled in migrant camps all over the USA. Full size poster here
In 2019 Tuma was appointed Second Vice-President of the Nova Scotia Barrister's Society. The Second Vice-President holds a key position in governance and continues on to become First Vice-President and then President of the Society. Tuma will continue on to be the Society's first Indigenous President. "Tuma has an expansive legal knowledge and brings his engaging, often humorous, personality to Council. Throughout his eighteen years of practice, he's advocated for access to legal services and has run a pro bono law clinic at Cape Breton University. His academic background and active commitment to the legal profession's response to the Truth and Reconciliation Commission will be a continued asset to Council and the Executive," said President Frank E. DeMont QC. Tuma grew up in a traditional manner on the Malagawatch First Nation. He has a Bachelor of Arts in Mi'kmaq Studies from the University College of Cape Breton; a Bachelor of Laws from the University of British Columbia; a Master of Laws in Indigenous Peoples Law and Policy from the University of Arizona; and is presently enrolled in the JSD program at the University of Arizona. His proposed thesis is titled "L'nuwey Tplutaqan: Using Traditional L'nu Legal Thought in Creating Contemporary Indigenous Governance Institutions."
On February 26, 2020, Tuma was appointed Queen's Counsel, a designation which recognizes exceptional merit and outstanding contributions to the legal community.
On September 15, 2022, Tuma received the Queen's Platinum Jubilee Medal for services to the Nova Scotia legal profession.
This article NeedsPicture & NeedsBio