Screen name: Tye Cezaro
Men Magazine, June 2004
Originally from Kentville, Nova Scotia. Graduated from KCA high school, then went on to University of New Brunswick to obtain a BSc. Graduated from UNB in 2003. Amateur bodybuilder.
Has appeared in Men magazine (June 2004) under the name Tye Cezaro. Currently lives in Halifax but commutes to the Valley where he works at the rehab centre.
More on "Ty": http://smutjunkies.com/profiles/c/e_stars/Cezaro_Tye/
He isn't the only local boy to go on to porn. See the page PornStars for a complete list.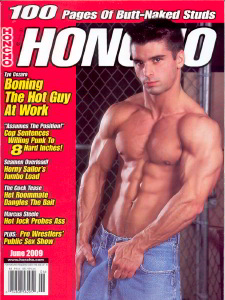 Cover of Honcho, June 2009