Daniel MacKay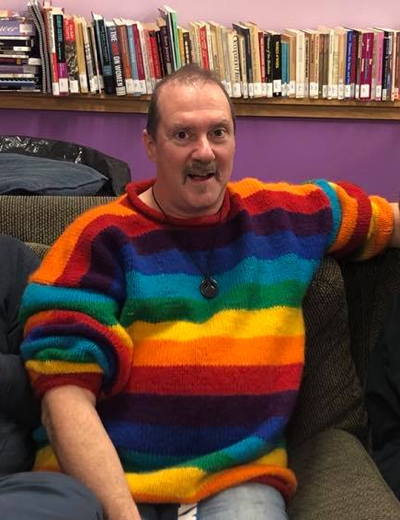 2018-02
I was born in 1963 at the very southernmost tip of Nova Scotia, moved halfway to Halifax, to Bridgewater, at age 10, and in 1981 the rest of the way go to King's College. About a year later, as a result of several happy and salacious accidents, I met NorvalCollins and got dunked into local gay culture including helping build the interior of Rumours on Granville Street in 1983. In the late 1980s I took over publishing what had formerly been the house organ of GAE, the GAEZETTE, which we the collective renamed to WayvesMagazine. The two papers together had a 25 year run as a paper magazine, and it is now more or less still alive and online.
For a decade starting in 1989, I was on the team that built the Internet in Canada, and then a computer networking and databases consultant for another, then solar energy and heat pumps. I'm now partly retired and have made the LGBT+ history and archives work my main pastime, which fits in well with publishing Wayves. Starting in 2000, I started working on the Halifax Rainbow Encyclopedia. Since the mid-80s I've been on the board of Solar Nova Scotia, the low-carbon advocacy and education organization and am also on the board of the ElderBerries. Somewhere In between I was on the board of Halifax Pride for a decade and was chair for three years.
I'm friend-of but not a card carrying member of (all of these are defunkt - maybe there's a message here) BluenoseBears, GaeGala, GayLine, MacLeather, and SafeHarbourChurch, OverThirtiesGroup... joined TightRope with Norval & MikeTeal on November 24, 2001. Currently on the board of the ElderBerries and working on the RainbowSeniorsArchive.
My Current Projects
Starting May, 2021: Research Assistant for the Dalhousie SHaG? (Sexual Health and Gender) lab, on the Indigenous Boys & Men project -- facilitating intergenerational dialog to better sexual health and all health
Starting February, 2021: Elders Coordinator with Halifax Pride
Starting February, 2019: Creating an archive for the LGBT Community in Nova Scotia
Learning to play the musical instrument, the theremin
Solar Nova Scotia - solar and alternative energy sources, http://solarns.ca/
ElderBerries - Secretary & Past Chair
WayvesMagazine publisher and chief geek
HistoryProject - a collaborative history of gay life in Halifax
Helping run this system - writing, tuning up code, monitoring performance. My wishlist for system changes when I have time, can be found in WikiTodoList. The history of the Rainbow Encyclopedia is here: AboutThisSystem
Promoting this system - that is, AdvertiseTheWiki, with luck resulting in WikiInTheNews
A church-y project which for the time being I'll call ChurchGrowthProject.
Back Burner
ArchivesDatabase: stalled out due to lack of involved people; part of it's online at http://bonmot.ca/lgbt-archives/
Mi'kmaq Legends Relationships: Studying the relationships in the Mi'kmag Legend Canon
A WayvesMagazineIndex? including advertisers and article authors for the history of the magazine
Write about my experiences at JimDeYoung's place in the early '80s. There's a very good short version of it on an Apple // disk IIS.90.1 that starts with, "The queerest thing? That's easy: When I first came out, the first gay person I met was Jim, "Mother" to his friends. For a couple of indistinct months, I spent all my free time in his apartment. For that time I had no trouble with the concept of a distinctly "gay lifestyle."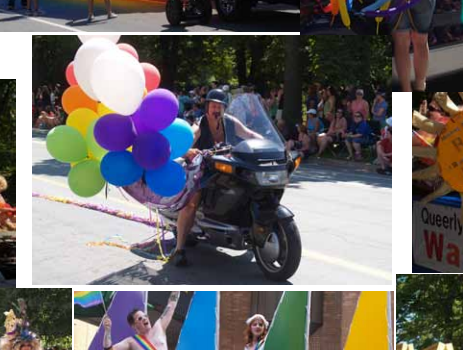 Honourary Parade Marshall 2008
2008

October 7, 2009

October 7, 2011

2012

2019

2021
The recordings here are in the OralHistoryCategory.
Contact