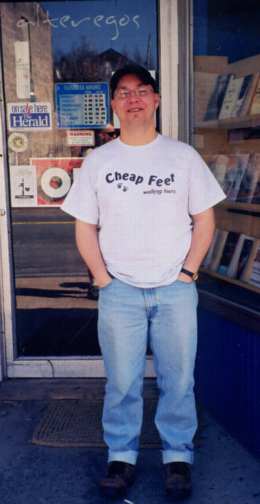 History
; May 18, 2003: "A brand new GAY OWNED company has started in halifax !! This not a flash in the pan / closed in a night business ... "Cheep Feet Walking Tours" is a registered company and is 100% gay owned and operated. They hosted the gay youth photo exhibit last year during pride and are now helping our Cheep Feet! Contact: Darin Eric Squire Entrepreneur Cheep Feet Walking Tours
; 2004: Darin Squire moved to Toronto, became an "ex-gay" survivor, and launched a website for "Ex Gay" ministries survivors, Soul Survivors which serves as a support group for "anyone who has been burt in any way in the name of a religion, spiritual belief or doctrine." See http://soulsurvivors.biz.
May 2003
We offer an exciting 2hr walking tour, exploring Historic Halifax, modern attractions and amazing scenery. This is not just a history lesson; we learn gossip, tall tales and "who was doing who". View copies of over 25 historic documents, photos and sketches along the way!
And if you're hungry afterward, we have "Walk & Dine", where you can enjoy a freshly prepared, wholesome lunch at AlterEgosCafe? (a very gay-friendly joint) after the tour.
Tour only is $9, Walk & Dine is $15.
Spaces are limited, call for times and dates and reservations, 429-8601 (ex 3) or mailto:cheapfeet@eastlink.ca
This page is part of the HistoryProject.
If you'd like to do a tour of Halifax, check out TourOfHalifax