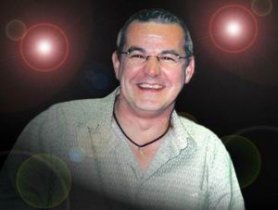 2004
Halifax author George T. LeBlanc's book Journey Through Life (Understanding Life Through Poetry) was published in December 2004.
George T. LeBlanc was born in Halifax, Nova Scotia, Canada in 1962. One of seven children, he quickly learned things did not always go the way he had wanted them to. Understanding at a very young age he was different (GAY), he had struggled for many years to find his true identity and to live with and be happy of who he is. His parents worked hard all of their life and it taught him to make sure he gave one hundred percent of his efforts into anything he would want to accomplish.
Struggling for many years and having various jobs, it took George a long time to find his niche in life. Besides working in the Professional field, he is a Student Minister hoping to be ordained within the next few years. Through all of his struggles, be it relationships, jobs, and etc., it has given him the strength to hold fast to his dreams and to accomplish what he needed to do. He is finally happy with who he is and knows through everything, he is truly blessed with a wonderful family and an abundance of friends.
---
Have you ever wondered what would happen if you were to write a book? You may think it will go this way or that way, however when you actually sit down to begin, everything may change and you begin to write things you never even thought of writing before. That is just what happened to me. About seven years ago, I thought I was going to write a book. What was this book going to be on? My life! However when I started to write, things always got in the way and after a while I lost interest because when I looked back on my life, so many things had happened and I did not know what to put in or leave out. I kept what I had written though and a couple of years ago, I reread what I had done. It sounded like I was writing a cheap porn movie or a very bad love story. Either way, I thought I would never write a book on my life. For that matter I would never write a book period. How wrong I was to be!!
Last year I decided to try my poetry talents and write poetry for my family and friends. An inexpensive gift but coming from the right place, my heart. To my surprise, it seemed to come natural to me and I seemed to find the words that best described the person I was writing for. I thought this would be the end of my poetry, again I was wrong!! I found myself writing at all hours of the day and night. Even when I was sick, it could be the middle of the night, I still got inspiration to write. The next thing I knew, I had over one hundred poems on just about every topic you can imagine, from childhood, teenage years, adulthood, loneliness, suicide, addictions, foregiveness, relationships, thankfulness and spirituality. And if I were to take a close look, I would see the poems described how I was feeling at one point or another in my life. Have I written the book about my life after all, probably!
From the early beginnings of realizing I was gay, the spiritual struggles with my homosexuality through the years of feeling lonely and dealing with the thoughts of suicide, the many relationships, jobs and addictions to the spiritual awaking and finally becoming comfortable with my spirituality, and my life as a homosexual. I call this book Journey Through Life for it explaines where I have come from and where I am going in my life and with my spirituality. It is done in poetry form for this is how my mind has allowed me to express my emotions and thoughts. The poems have been put in several categories and in sequence to how I have journeyed through life. I invite you to take this journey with me now.
---
A copy may be purchased by contacting George at: mailto:gtl@eastlink.ca