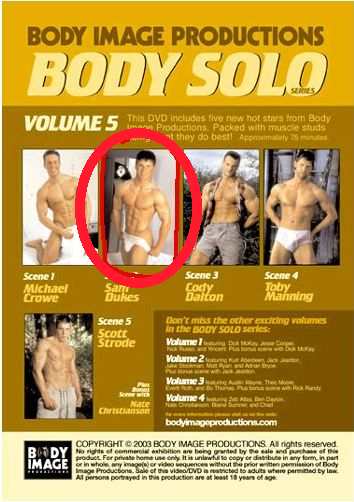 Video back cover
Trevor Ryan, the Port Hastings Cape Bretoner, born ca. 1984, who posed for some gay porn magazines and later made a solo jackoff porn video as "Sam Dukes."
Naked and boned promo pics of this beautiful uncut dude can be found here.
Like his UNB pal, AdamCameron, Trevor is also an amateur bodybuilder.
More info at: http://www.nsabba.com/profiles/trevor_ryan.html
The video is available from Body Image Productions as Body Solo Volume 5. Its promo text reads: BODY SOLO VOLUME 5 showcases some of the hottest new faces in adult entertainment ... SAM DUKES (Freshmen and Torso); ... .
FrankMagazine? Issue No. 432 called for people to try to identify the hunky "Sam Dukes" and several people obliged.
The July 27, 2004 issue of Frank Magazine says that Trevor may be living in Halifax. "I was 18 years old and very naive at the time," says Ryan, "that photo shoot has ... scarred my life."
Frank says: "Gee whiz, kid, lighten up. Dropping your drawers isn't that much of a big deal!"
Commentary
Well, it's nice to see a local guy "making it big" as it were.
He isn't the first local boy to go on to porn. See the page PornStars for a complete list.