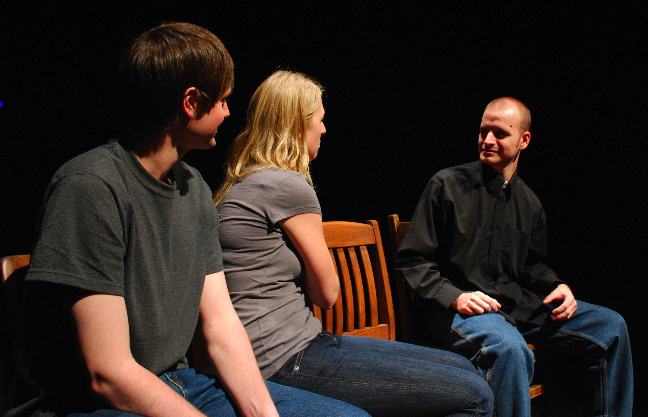 Photo by Patrick Casey
---
Theatre Revue: The Laramie Project
By J.C. Aucoin
On October 6, 1998, gay university student Matthew Shepard was kidnapped, brutally beaten, then tied to a fence and left to die on the outskirts of Laramie, Wyoming. He succumbed to his injuries in hospital five days later, never having regained consciousness.
From the initial media circus that descended on a small railroad and ranching town, to the three movies, numerous articles and books, and approximately twenty songs recorded by the likes of Melissa Etheridge, Ron Sexsmith, Tori Amos and Elton John, few other events in modern queer history have garnered the same level of media attention, or cultural exploration, as the death of Matthew Shepard. The play The Laramie Project was the first major contribution to that cultural exploration.
The Laramie Project began as a series of in-person interviews with the residents of Laramie a month after Shepard's death. Moisés Kaufman & his company members from the Tectonic Theater Project went to Laramie a total of six times over the next two years, interviewing over two hundred residents. From those interviews more than sixty characters emerged to tell the story through the voices of Laramie's real-life citizens as they struggle to uncover the crime's roots in their community, and to make sense of Shepard's death and the impact on every person of the area. The play is often moving, sometimes funny, always riveting, and ultimately affirming.
This DalTheatre production is an ensemble piece constructed of interviews simply told: a bare stage, assorted wooden chairs that are moved and reorganized as needed, stark lighting and minimal sound effects, sixteen actors dressed in mostly plain clothing, some TV screens, a few props. The simplicity of the telling belies the complexity, power, and even harsh beauty of the story that unfolds.
The cast is consistently strong. Composed entirely of 4th year Dalhousie University acting students, they each portray multiple characters over the course of the play. Dressed casually and simply, they add or remove a hat, scarf or coat to visually differentiate one character from the next, but they also make great use of body language, accent, and their minimal props. The transitions are smooth, and while a limited few characters border on caricatures, the vast majority are very well realized and brought to life immediately by the actors. Among this solid ensemble cast two actors in particular stand out. Stephanie Folkins as officer Reggie Fluty brings out the complexity and humanity of her character's situation with only the very few short scenes afforded her. And Charles Mancini fully inhabits acting student Jedediah Schultz and brings each of his four other characters to life with the same aplomb. In addition to a collection of great performances the pacing of the entire production is spot on. When a two and one half hour play that's 'all talk' keeps you transfixed for the duration, you know director Christian Barry has done justice to the script and earned his keep.
While the presentation of this actor-driven play is simple from the viewpoint of the audience, the design and technical framework that supports it is far from simple. This play is made up of hundreds of mini-scenes that require an even greater number of lighting and other technical cues. Likewise elements like the onstage live video broadcast of certain scenes, and the rainy section also requires considerable technical finesse to pull off effectively. Throughout this production all the costume, lighting, sound and other design and technical choices made here served the show very well by staying understated, yet still amply contributing to the overall vision, and they were all handled with great skill.
I only have a couple of minor complaints. An unintentionally noisy lighting fixture exit will hopefully be corrected, and the final lighting display might have benefited from having a blackout curtain behind it, but these are very minor quibbles from an otherwise solid production.
Dalhousie Theatre's The Laramie Project is a great production of one of the most powerful English-language theatre scripts of the past decade. Don't miss it. Four stars out of five.
The Laramie Project
By Moisés Kaufman and the member of the Tectonic Theatre Project
A DalTheatre production directed by Christian Barry
Until 2008-11-29
Sir James Dunn Theatre, Dalhousie Arts Centre
Tickets: Regular $12, Student / Senior $6.

Play times can be found in the LocalEvents section.