1 to 4:30 p.m.

East Coast Kitchen Parties Project at YMCA Centre for Immigrant Programs (104-7071 Bayers Road)
Are you an immigrant and newcomer LGBTQIA+ individual wanting to build social networks and make new friends, and would like ot learn and make healthy meals? Attend the YMCA Kitchen Party! Reduce your experiences of isolation, find resources to access healthy food, and cultivate mental and physical habits.
Contact Ahrthyh Arumugam for more information.

1 p.m.

Drag Brunch Ceilidh at Old Triangle Irish Alehouse (5136 Prince St)
Hosted by Anna Mona-Pia. This will take place in the seanchair room which is located upstairs.

1 p.m.

Afternoon Delight at Economy Shoe Shop Basement (1663 Argyle)
Hosted by Bunni Lapin, featuring Kristi Davidson, Racheal Lush, Elle Noir, Trinity Foxx, and Hugh Manntrash. Food and veverages available. Doors open at 1, show starts at 1:30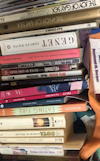 1 to 4 p.m.

Elderberries Used Q Book Sale
Special Guests: Book Signings by Bruce Bishop!!
Prices: Unless otherwise marked: hard cover $2, magazines & soft cover $1. Pay what you can starting at 4:00, over at 4:30. Proceeds go to the Elderberries & Radstorm.
At: RadStorm, 2177 Gottingen Street
If you have any questions, email elderberries-books@bonmot.ca