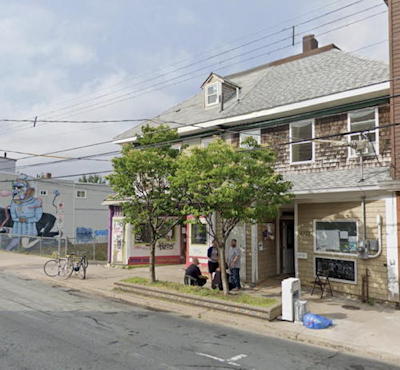 Google StreetView, July 2019
2177 Gottingen Street
Historian Blair Beed says: HRM Municipal archives website says that pre 1960, the number 2177 was 273. Then if you go to the Hopkins Atlas of 1878 on the Nova Scotia Public Archives site you see it as 73 Gottingen Street. With the old number of 273 or 73, you can go to any of the city directories in the reference room of the library on Spring Garden Road. I'm not sure if the Northend Memorial Library keeps city directories. Just pick a directory year and find the information.
In 1878 it appears to be a duplex with the other half sharing the site as 71. This could be the same building as it does have the shape and hip roofline of an older building style. In the 1941 city directory, the #71 side was Hart's Shoe Store and #73 was A. Graham Men's Furnishings. In 1960, #73/273/2177 was known as A. Graham Men's and Boys Wear, and at #271, Hart's Shoes had been replaced by Sally's.
Facebook
Comments from the Facebook group Gottingen St. Neighbourhood 1940-2021
Paul Ellis & George Moore: "Kenny Forwell's Buy Sell Exchange"
John Fleming: I believe at one time the left side of that building at different times was occupied by Gordon B Isnors clothing store, Le Chateau clothing, Bob and Laurie's Food Emporium. Just to name a few businesses that occupied that building as I remember. (Blair corrects him to say, "Gordon B Isnors was in the building just south of this one #69"
DanielMacKay: Bob & Lori's Food Emporium, 2179. RJSC says: Registered on: October 31, 1994, Revoked for Non-Payment December 4, 2006, Robert MacLean Trenaman & Lori Trenaman.
Irvine Carvery: On the right hand side was Kenny's buy an sell and on the left side was where LeChateau first set up in Halifax
John van Gurp: It was conveyed to Jospeh Cummings in 1884. In 2003 it was sold by 3026309 Nova Scotia Limited; the President of that company was Parker Noonan. 2003 - present (2021) it has been owned by Walter and Mary Schlech, Professor of Infectious Diseases, Dalhousie (Dan adds: and an early AIDS doctor.)
The Ark
Here is Trish Spark talking about The Ark which the RadStorm space was previously used for. She mentions Dorothy who was at the core of the place and talks about philanthropic work by the Catholic Church.
Radstorm Discord
Wobbly Brad says: It was also The Ark – an important drop-in for houseless and street-involved youth – for a number of years, until the women largely responsible for running it, Dorothy and Emily, moved on to other things. This was the last use of the RadStorm space before RadStorm moved in. There is some overlap between people who've been involved in RadStorm and people who used The Ark, so finding out more details shouldn't be too difficult if you're interested. Sean Boone (from Desperate Times) might be an easy starting point + he'd know other people to talk to.