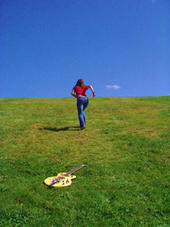 Somers was born in Truro in 1977 and grew up all over the Maritimes. She was introduced to music when she started taking piano lessons at age five, and then quickly learned to play by ear and began writing melodies. She taught herself guitar when she was 18.
Throughout junior and senior high school, Somers got on-stage experience by playing with a church-based rock band that travelled all over the world performing.
"Eventually I grew out of that and found my own place in life, and formed a female folk duo with my best friend Amy Campbell, who is now a solo artist as well," says Somers. The duo, called Stumble, was together from 1997 to 2001. "Stumble was very folk-based ... They had some really great sort of sad, broke-my-heart songs," she says.
For more info and on future shows with her band 'The Lion's Den'.
Main page: http://www.andreasomers.ca
My Band: THE LION's DEN with Katie Patterson on Drums, Reese Nearing on Bass and Chris Iannetti on (Lead) Electric Guitar. Players on recording: Drums: Pat Hayes, Bass: Danny Sutherland, Lead electric: Chris Iannetti. All vocals, organ/keys/strings, acoustic and electric guitars: Andrea Somers.
This page NeedsBio - specifically her connection to the LGBT community in Halifax. Amy Campbell was a well-known lesbian musician in Halifax, and Stumble was a favourite of the LGBT community in its day:)