1. A Post War Sendoff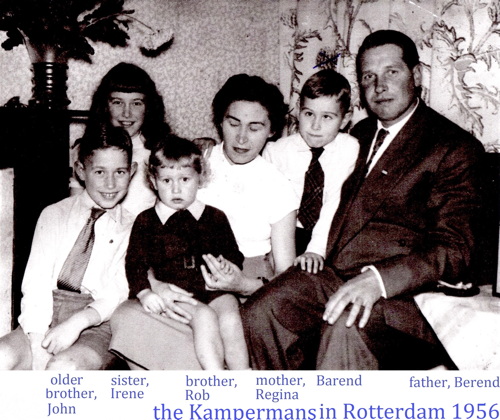 My family's past has often meddled with the "current present" in my life. Dealing with that has been a recurring challenge. First some background.
I was born September 30, 1950 in Rotterdam Holland. The product of a "mixed marriage."
My dad, Berend a staunch Calvinist and my mother, Regina a strong Roman Catholic and a refugee from Soviet occupied Lithuania.They'd met in Wildau Schwartzkopf labour camp outside of Berlin. He was a medic with expertise in sports massage. She was his nursing assistant. They courted in broken German and worked with Berlin's anti-Nazi resistance. Mom was pregnant with my sister, Irene when Berlin fell.Her Dutch relatives welcomed her initially with hostility, believing she was a "dirty" German. Mom could speak Polish, German, Lithuanian, Ukrainian and Belarusian. She counseled refugees fleeing the USSR to not return east.She was sometimes hounded for that. Her sister's house in Lithuania mysteriously burned down. Russian authorities refused to treat her sister's injuries; unless she quit counseling refugees. Then in '56 Hungary was invaded.
My mother (again pregnant) was traumatized.' Convinced the US would do nothing to stop another war in Europe.My parents decided to immigrate to Canada. They presented it to us kids as an adventure. We'd get to see cowboys too!
My mother's dearest friend, Pauline Larson a Norwegian Christian clairvoyant had predicted before this uproar began, that our family would move to Canada. First my mother scoffed at such a ridiculous idea. When the time came close to leave, she told mom two old people would take good care of our family and she described the home and property we moved into in great detail.It all proved true. This was my first brush with the supernatural; but, not the last.
It would be decades later that my mother informed me that my prissy oldest uncle, Wim was always presumed to be a homosexual. And my tomboy aunt, Femme was always taken to be a lesbian who loved motorbikes and women. (So same sex attraction runs in my family.)They were both crippled by homophobic religious guilt and so was I for a while;but, I escaped.
I clearly remember having a powerful crush on a cute little guy my age. I loved being with him. Strangely his mother made him wear nice pants, a jacket, white shirt and a blue bow tie. Ever since bow ties on hunks get me going. Of course all of these things couldn't be explained to a six year old boy. They just were.
2. Becoming Canadian And The Dykes From Up The Road
We arrived by boat at Pier 21 Halifax in July 1957. We stayed with Herman Lamb's family for a while on a farm outside of Masstown.For a city kid the lush countryside and farm animals were fascinating.We started learning English from the Lambs.Somehow Colonel Kenrick Carteret Laurie of Oakfield Estate Farm got to interview my dad. (Mr.Lamb translated.) The Colonel liked that my father had been a narcotics cop in Rotterdam.He got hired as a farmhand for the estate. Soon we moved to the lakeside village of Grand Lake. The house we moved into and its asphalt brick paper covered garage were just as Tante Pauline had described to my mother. The two kindly old people turned out to be the Colonel and his wife, Violet Maud.Because of them I got to work in Japan years later. My first teaching job was instructing my mother in English spelling and pronunciation. Because dad always spoke very poor English I'm still able to speak Dutch.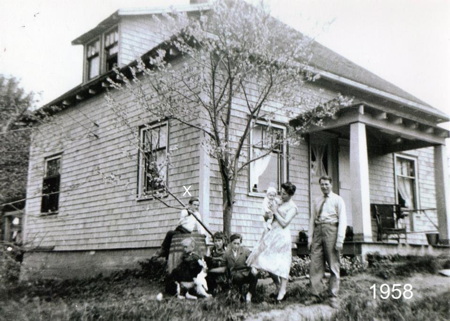 Grand Lake, 1958
It took time to get used to Canada's ferocious winters and holidays like Halloween.Enter the King Sisters.I answered a knock at the door one Halloween night. There twenty feet away stood a figure dressed like a farmer in overalls with a gauze bag over "his" face. He took off his Fedora.He swung it low to the ground, in a silent courtly bow.His "farm wife" stood further back waiting. Startled, I called for mom.She was delighted to see them and invited them in. The "husband" sat in a rocking chair and pretended to fill and light his pipe. His silent wife began busily knitting. Mom did all the talking. It was rather pleasant but strangely mysterious too. They didn't stay long and were very gracious when they left. They only visited us once more. No one in the village had seen them or knew anything about them.
Later I heard about the eccentric King sisters on a farm in nearby Wellington. One always dressed like a man in farmer clothes. They kept to themselves and the "farmer" was surly and laconic.They kept a toll gate over Sunnylea Road that passed by their home.The other sister was very much into playing the farm wife.They were protecting themselves in a backward time and place.
3. Youthful Naivety as a prison
Our family became woven into the fabric of our village's life. The local Anglican Church, the two room school that became the Community Hall and Fire Department, Scouts, Cubs, the Ladies Guild and sports teams. Because of my poor 3 D vision, I sucked at most sports. That cut me out of a lot of activities. I was also an animal lover like my dad. The other boys my age were either rough or cruel to animals so I became a loner. It's difficult now to realize how ignorant people were about human sexuality in the sixties. The boys were all interested in girls. I found that baffling. Still I didn't grasp that I had crushes on other boys or even some adult men.I thought it was admiration. Sidney Stephen High School's librarian loaned me a copy of Human Sexual Response by Masters and Johnson. But no one discussed sex, let alone homosexuality.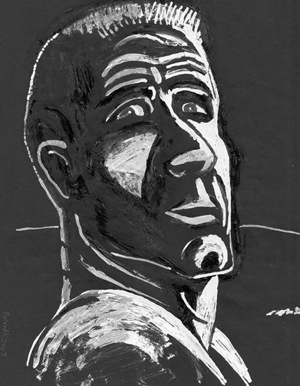 Self Portrait - 2015
I became very religious and accepted its hetero-normative view of life and sexuality. Like most, I masturbated but never about women. I drew crude cartoons of handsome, well-dressed men never in any sexual situation. I didn't know what that would have looked like. I hid them and usually destroyed them. Then I developed a crush on a handsome married teacher. (Nothing ever came of it.) But the feelings were so intense that it started me thinking and reading more.
One day I was excused from a class to go to the boys bathroom. I sat down and started reading the dumb jokes on the wall. Suddenly, I noticed a brief scribbling. It was a some guy fantasizing about forcibly blowing off that sexy teacher and swallowing his load! I was shocked. (I never thought that anyone would ever put a penis in his mouth.) First I thought I'd better report it to the office. But what if they thought I'd written it. The place was still. But if another boy came in now, he'd think I wrote it. Nobody did. So, I just returned to class and told no one.
I knew God had made me gay but didn't know what to make of that. I got a B.A. in English 1970-1974 from the University of King's College.Then a B.Ed from Dalhousie University in 1975. I met so many interesting young people at the S.U.B. and in classes. Including a paid Roman Catholic Church Exorcist. I also made a "bad friend" who I stayed loyal to for nineteen years. She sometimes gave me the creeps but I was determined to "rescue" her from her sadness. The "train wreck" ending of our bond taught me to never ignore my gut feeling about a person again. I taught Adult Upgrading in Yarmouth for two years. Often I bused to Halifax on Acadian Lines to dance at Thee Klub and The Turret. I couch surfed at those times. My gay friends were so supportive. Gay guys really helped each other back then. The house parties were incredible! Strangely I still regularly attended Worldwide Church of God services. It was a money making cult really. My church friend were sweet people but blindly loyal to the alcoholic windbag that ran the operation. I thought I was tough enough to bear through it. However that sowed horrific toxins into me that damaged my mental health even years after I left.
 1977 to 1979 I taught English at Ecole Queen Elizabeth in Sept-Iles P.Q. I strove to become functionally bi-lingual and loved Quebecois culture. I met an energetic wild black lesbian, Patricia Comeaux from Chicago, who'd taught in Iran under the Shaw's rule. We conspired to speak French outside of class to sharpen our language skills. I got to Quebec City and Montreal as often as I could to enjoy the gay clubs.  Unfortunately I suffered from S.A.D. seasonal affected disorder and hypoglycemia. I went on sick leave and eventually had to quit that job and Quebec.
I moved back with my parents in NS for a while. I dove into the fake church again crediting them with healing me. But after a while I was back on the dance floor at Rumours. In '83 after I couldn't even get a survival job due to Sabbath regulations, I left the W.W.C.G. for good.I'd been having crying jags, fits of rage, obsessed with a guy I'd never meet. But life gradually became better. I found a security guard job and got involved with the G.A.E. Volunteering on the Gayline, the Gaezette newspaper and even on GAE's Board.This led to my meeting and falling in love with Peter Woods the head of the NSPWA.
We made safe sex love. But a homophobic nurse at the VG STD Clinic falsely told me I had AIDS. I was stunned. A few days later I had a full out panic attack. All my muscles seized up and was taken by ambulance to the then VGH Emergency. Peter broke off with me fearing he might infect me. Gradually I was able to work again but fed up with five years of security work.A second time my youngest brother, Fred invited me to come cash in on the English teaching boom in Japan.I said yes though I didn't know what where my AIDS test results. I was pretty sure I'd commit suicide in Vancouver. However the flight was extremely long. Mulling it over I decided to give Japan a chance. I
1988: Artwork for a poster, probably for AIDSNovaScotia. The original is in the LarryBaxter fonds.
July 19, 2018: Barend and EricSmith interviewed in this CTV "First at Five" feature: https://atlantic.ctvnews.ca/video?clipId=1442794