At the 2019-07-22 dedication of Raymond Taavel Park. Photo by Samson Learn, Samson Photography
By NilsClausson
Eric Smith was a teacher. His admission to having AIDS early in the crisis rocked his home community to its core. He faced a lot of opposition and discrimination but braved it courageously.
Eric was infected by a boyfriend in 1983 before HIV testing and condom use education. As of June, 2020 he's still healthy with normal blood counts [a stubborn little thing]. He continues to advocate for both the gay and AIDS communities.
Anyone getting the opportunity to speak with him will soon realize what a wonderful, intelligent person he is.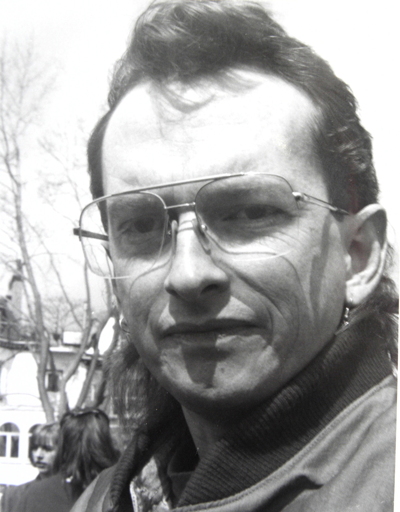 Circa 1989
November, 2002: on the cover of WayvesMagazine
December 1, 2006: Eric had most of p. 9 of the Daily News For World AIDS Day, "It's really important that we take the time to remember those we've lost."
November, 2010: Eric received the NSRAP Community Hero Award.
July 19, 2018: EricSmith and Barend were interviewed in this CTV "First at Five" feature: https://atlantic.ctvnews.ca/video?clipId=1442794
December 10, 2018: Eric received a Nova Scotia Human Rights Award for his advocacy for the protection of people with HIV/AIDS and for those within the 2SLGBTIQ+ community from discrimination. "Having lost over 550 friends to AIDS, I hope that my advocacy work has in some way helped to honour their memories." – Eric Smith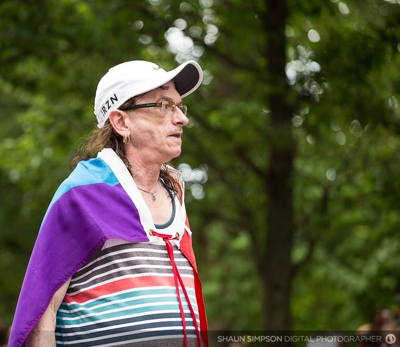 At Halifax Pride 2016
There's some autobiography during the 2018-07-22 Elderberries Salon at about the 47:00 mark.
Eric is one of the HistoryPeople; this page NeedsBio