1942 - 2014
Elected as mayor of Wolfville in 1997
In 2013 Bob married his iongtime partner Danny Chandler in a ceremony attended by a small group of family and friends.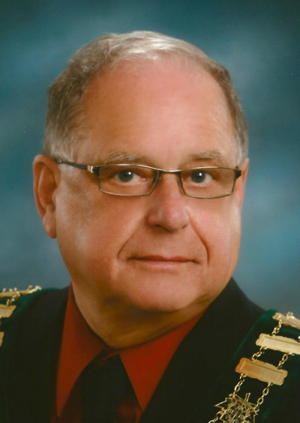 Bruce Walker writes:
Personally, our first meeting occurred in late August, 1977. This was just a couple of weeks after I had met my late spouse, Lloyd Simmons. Lloyd and I met in Toronto. When he asked me to come to Prince Edward Island with him I was happy to do so. After we spent a few days together in Summerside, he asked if I would like to travel to Wolfville and meet his good friend and distant cousin, Bob Stead. I agreed. Bob and I also became friends. I discovered that as well as being friends and educators (Lloyd was a high-school teacher), both Bob and Lloyd were like-minded collaborators in advancing equality for lesbian and gay people. They taught me to lead and educate by example. This proved to be a very effective method to bring about social change and influence political will.
Bob and Lloyd stayed in touch over the years. They were early collaborators in improving the lives of students, particularly lesbian and gay students. Bob's creative use of AcadiaUniversity's admission criteria meant a significant number of people had an opportunity to study at Acadia University they might not have had otherwise. I certainly am one of those people. I am so very grateful for the opportunity Bob and Lloyd gave me to begin studies at Acadia University that led ultimately to a Bachelor of Laws Degree from Queen's University in Kingston, Ontario, and my career as a lawyer in Toronto.
Bob's interest in community building led to many gatherings at Bob's house, often more than one per week. A significant number of these were with gay and lesbian people. Dinners, barbeques, potluck socials, and individual visits were Bob's style. He participated in Halifax's Over-Thirties Club potlucks in the 1980s and later. There was also a group of local gay men, who called themselves the "Valley Girls," that met often for potluck socials. He always encouraged people with his quiet wisdom. Bob remained keenly interested in the progress of lesbian and gay equality in Canada. He kept up to date through his many connections and friends.
Bob saw to it that the Rainbow Flag was flown from the flagpole at Wolfville Waterfront Park. The first of these was on May 17, 2012, during the International Day Against Homophobia and Transphobia celebration. He also facilitated the flying of the Rainbow Flag to commemorate Lesbian and Gay Pride later the same year.
I know, because he told me, that most of all Bob treasured his seventeen-year relationship with his long-time companion, Danny Chandler. Bob and Danny became husbands of each other at a quiet ceremony in their warm and happy home on November 22, 2013. Bob was a good friend and a great Canadian.
Bob is mentioned in a 2020-12-04 CBC piece about Xaver Varnus who bought Pilgrim United Church in Brooklyn, N.S. and converted it to a home with a built-in organ; "Twenty-five years ago, I had a very nice friend here. His name was Bob Stead and he was the mayor of the city of Wolfville. And actually, he tried to seduce me to move to Nova Scotia. But 25 years ago, I was too young for Nova Scotia."
This page NeedsBio