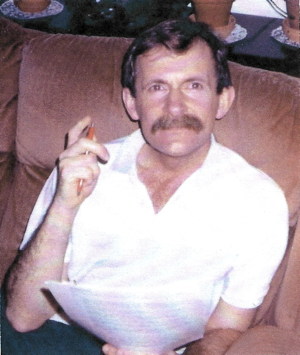 ca. 1995
November 24, 1945, 1945 - August 16, 1999
Born in Nova Scotia, Chester Myers moved to Toronto, got a PhD in biophysical chemisty, and worked in the food industry. But outside of his day job he was a genius in nutrition for Persons With AIDS.
In the late 1980s, when so many were falling sick and dying, scientist Chester Myers got to work writing and distributing information about nutrition and HIV.
"He made brochures at his own expense and went on travelling roadshows," recalls Sean Hosein, a long time friend. "He knew the importance of nutrition for improving the lives of people with HIV/AIDS, even when governments and dieticians were ignoring it. He was an activist and a visionary."
By the time of his death in the late summer, Myers was internationally for his work on HIV and nutrition. He was a scientific advisor to the Canadian AIDS Treatment Information Exchange (CATIE) a member of the ethics review board of the Community Research Initiative Of Toronto, and an on-line advisor at various AIDS nutrition websites. He wrote many papers on nutrittion for CATIE, and was regularly quoted in Poz magazine.
"Chester's great gift was taking a lot of scientific information and putting it into terms that a lay person could understand could understand," says Mike Willan, health promotion coordinator for the AIDS Committee of Toronto.
His death after a brief hospitalization came as a shock to friends and colleagues. A cat-lover and an organist, he was know for a wonderful sense of humour and a wwide and diverse group of friends.
Another legacy of Chester's, together with former CATIE oard member Laurette Lévy, was the creation of The Positive Side magazine. In the early 1990s, the magazine was ocused mostly on complementary therapies and the lived experiences of PHAs. It was printed on newsprint and ublished erratically. Now, The Positive Side has morphed into a Canadian, full-colour magazine that speaks to the any needs of PHAs in both English and French.
There are several other memorial articles by Sean Hosein online
There's a full biography here.