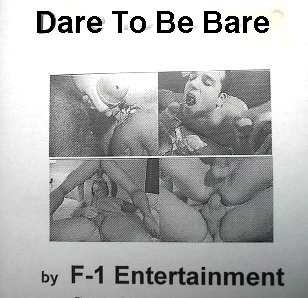 Locally-made porn film produced by J. MacL?. of New Waterford and filmed on July 23, 2003 - 26 and October 22, 2003 & 23 and at the Radisson Suites Hotel in Halifax.
The video was briefly distrubuted at http://www.amvc.com. Its link was http://www.amvc.com/showroom/foe01-0.shtml however since the movie surfaced in Halifax, it's been removed. According to AMVC the video was a best seller in the month of July, 2004.
Many of the "Stars" can be found chatting on GayDotCom:
Yngnavyboy
DaryKandPaul?
Navigator
Exportempire
malato
Volcanic
Add other handles here
Reviews
Extremely nasty review removed. If someone has a less rabid review, please post it here:
Setting
Pacing
Quality of guys and their boners
etc
REVIEW: Dare To Be Bare Over 100 minutes, 4:3 ratio, shot on video
Well, our curiousity got the better of us, and we made the purchase. Dare To Be Bare is pretty bad. Very slow pacing, no plot whatsoever, with almost all attractive guys (though clearly not the smartest). The main event of course is the barebacking, but the deathly-slow pacing means that you wait and wait and wait to get to that, and then wait and wait and wait to get to any money shots. While the third scene has nice bodies, several of the scenes have pretty soft dicks.
In terms of the technical side: no soundtrack, bad actual sound -- a window was left open, so you can hear trucks and buses drive by -- and the lighting is spotty, lots of shadows. The closeups are blurry, with a Blair Witch Project quality.
The movie is mostly pairs, though during the first scene a third person appears just to supply more unsafe fluids, then disappears again. This turns into a theme, with threesomes taking advantage of all the fluids they can.
Me: "Train wreck." My viewing companion: "I can't even blink!"
Actors: (remember, these are of course pseudonyms) Andrew Davidson, Jan Reydall, Nathaniel Hines, Daryk Knox, Mark White, Tom Bryson, Red, Max, Johnson, Garrison, Tom Hard, Coby Stevens, Bob Reynolds, Jeremy, Mike, Adam
---
An online pay-per-view can be found here note, you have to paste the URL into your browser See also: PornStars
Here is a new site where you can download the movie (for a price) http://www.groovymovies.com/gay.shtml
---
Discussion
Someone writes: In one of the scenes you can see HunkyMonkey watching Navigator get sucked off by Yngnavyboy. To what extend Hunky was involved remains to be seen.
Someone else writes: HunkyMonkey was just there to help his friend who was making it. That was it. He did some moving around of lighting equipment. Although nominated for an academy award (best background prop), he didn't win. :P
July, 2005 FrankMagazine had a write-up about this, which also mentions speaking with the hotel management about it being filmed at their hotel....