Edgar Friedenberg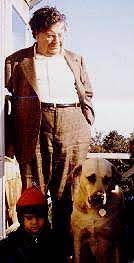 Edgar Friedenberg in Nova Scotia (photo undated, uncredited, CLGA).
March 18, 1921 - June 1, 2000
Edgar Zodiag Friedenberg was a sociologist less famous than he should be, perhaps because he had abandoned the US in 1970 for the relative obscurity of living in Hubbards, and teaching at DalhousieUniversity in Halifax, Nova Scotia. A scholar of education and gender studies, Friedenberg left the U.S. during the Vietnam era. His 1959 book, The Vanishing Adolescent, a sociological study of teens, has been reprinted ten times and translated into several languages. He was active in the Canadian Civil Liberties Union.
He was interviewed in The Body Politic Number 11, early 1974.
Friedenberg's biography is Screw Your Courage though he preferred to call it "a study in marginality with a sample of one."
Canadians are more polite when they are being rude than Americans are when they are being friendly. -- Edgar Friedenberg
This page is part of the HistoryProject