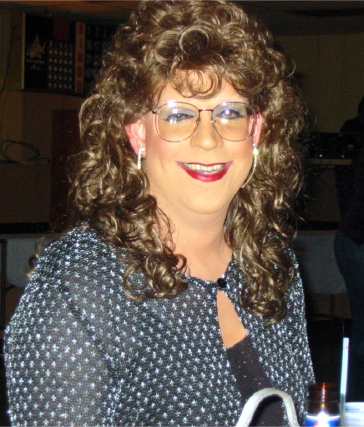 Felicia Felicity was first created in 1996 and made her grand debut at Reflections cabaret.
She has performed at many bars and benefit shows in the community and out
Felicia's friendly and very outgoing personality is what makes her a gem She started her drag days with her founder and mother Cherie. One night she said to CherieLamour when they all lived in quiltville what name will I use and she said Felicia is a good name for you. Felicia has carried the name for over 10 years now and will continue to carry it She has performed Cindi L, Leann R, Tina T, Dolly P, and especially Donna S, the famous Barbie(kick)
When she first started her outings they were along with Cherie, Mary, and Penny. They all had a blast and always danced the nights away to the wee hours. Felicia is very well known for her stiletto heels that some refer to as her stilts. Felicia will always be there to lend a helping hand as she showed in a 2005 benefit for Leon Keyes who needed eye surgery in Cincinatti Ohio.
The night was filled with numerous numbers and the crowd showed their pleased response. Felicia has a heart of gold and will always be there when needed.
A special thank you to Cherie as if it wasnt for your persueding me to do drag in the first place I wouldnt have experienced all the great moments that I did And also a special thank you to all those who have supported me over the last 10 years
February 27, 2007: My name Is Leon keyes and I am so flattered that you finally have a website here for Felicia Felicity Felicia has a heart of gold as she showed in my benefit on April 8 2005 Felicia performed numerous numbers that evening and there was a spotlight article in the Chronicle Herald about the benefit and her performances once again Felicia thank you so much for your time and energy it really payed off Sincerely Leon Keyes