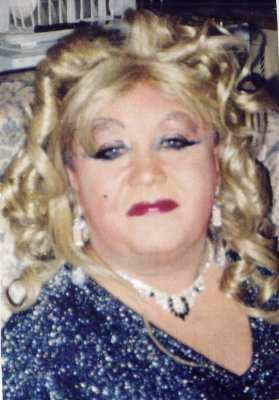 Does Tina Turner and Patsy Cline and has competed in many pageants at ReflectionsCabaret. This girl isn't afraid to publicize her personal life! Can be seen with GinaGibb. The two make a GRAND! DUO. Watch out Lebanese boyz. These girls got a taste for dark meat!
ShaniaDq writes: Glamour girl!
NatasshaNlott writes: One of my favourite stories about quilts is the time I was standing next to Cherie at the bar at NRG at one of the BigGayKaraoke nights. They're auctioning off a pride afghan and Cherie goes "oh quilt" and I'm like "no, girl, it's an afghan". Cherie if I remember correctly was one of the first if not the 1st queen I ever met and she's a lot of fun and doesn't take drag too seriously. That's what's important.
AmandaBenzova writes: "Most grand edition gurl".. lol.. one of the first ppl i met in hfx. One of the funniest ppl I know, never wins a pageant but always comes out to them and is ALWAYS entertaining to watch, especially her Tina ! ;-) Most love
hi cherie Hi Cherie, HAPPY BELATED BIRTHDAY from a friend, She is now 47 years old as of Sept 28
GLAM!
artberry writes, thank you for the birthday cake
Hi there hunny well you will soon be another year older hunny our glamour days are drawing to a near(LOL) I hope we will go a stepping sometime soon LUV your (QUILTY) friend Felicia Felicity QUILTTTTTTTTTTTTTTTTTTTTTTTTTTT, We have to locate Mary with her run over 4 inch heels as well like the good ole days, and Penny too omg those were the days I still have my stilts to wear all of them take care hunnyLUV FF xoxo
Hi Cherie Lamour Gina Gibb Here saying hello.can't wait until you go stepping out in heels again..i know that you are having a problem with your foot right now..but it will get better..Your Friend GINA GIBB
Hi Cherie hunny well its been a long time since we went a steppin since u r my drag mother we shall have to go a steppin again soon ( as soon as your foot heals) we had barrels of fun too hope all is well and Happy Birthday to you hunny Luv Felicia
ArtBerry writes, you be another year older soon. Sept 28 2006, like to wish you a Happy Birthday and many more returns. your friend always Art
 Dec. 6 2006---Hi Cherie Lamour,Glad to have you as a friend, Really friends are had to come by some people are out to gain for them if we let them, I just like to wish you a Merry Christmas and all the best of luck in 2007 , from your friend Art berry
I heard your sick gurl, hope you get better soon!