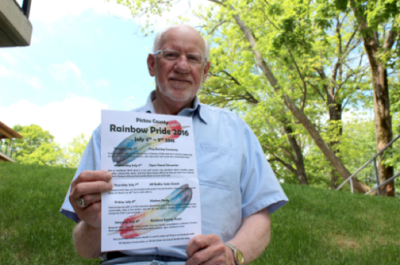 2016. Photo by Heather Brimicombe
Gerard Veldhoven
December 4, 1940 - August 21, 2022
Gerard Veldhoven was a long term LGBT activist who personally advocated for increased quality of life and human rights for the rainbow community. In the spirit of social justice and social change, Veldhoven championed the rights of LGBT people in Pictou County and all of Nova Scotia. He pioneered Pride Week festivities in more than one community where diversity and inclusiveness were lacking.
Gerard writes in his autobiography:
Growing up in The Netherlands, a country well known for its tolerance, I realized at the age of about ten, an attraction to other boys. My first sexual experience was at thirteen with a lad who hailed from Indonesia. I pursued my encounters a few more times before it was decided we would set sail for Canada at age fourteen. This move would prove to be quite difficult as my contacts were severed and my thoughts wondered how this would manifest in a new land.
Once settled into our new way of life, I longed for sexual contacts, knowing homosexuality was illegal in Canada. This would not interfere with my attempt to reach my goal. Eventually, through school friends, I managed to succeed in my quest. So, along with a few Dutch gay friends I began a journey that would change direction.
By late 1959, I was looking for some sort of stability in my life. While hospitalized with pneumonia in 1961, I met a nurse who I eventually would marry. As a gay man I realized this to be a complete turnabout. Living in Halifax, Nova Scotia, was not precisely a comfortable place to be gay. Now, as a married "straight " man, it became clear I dearly wished to be a father.
On October 16, 2004, he and Norman became among the first gay men married in Nova Scotia. To his surprise, there were three clergy present for the ceremony – two United Church ministers and one Anglican.

On October 3, 2020 Gerard launched his autobiography, A Passion For Equality. "Veldhoven has witnessed first-hand a gradual shift in society as gay relationships became more accepted and ultimately legalized," said the ChronicleHerald.
As the president of the Board of Directors for the Pictou County Centre for Sexual Health (PCCSH) a member-centre of Sexual Health Nova Scotia, Veldhoven's dedication extended well beyond LGBT rights and equality. He was a volunteer on the Pride Week Committee and the Race and Discrimination Committee with the Town of New Glasgow. and wrote a weekly column on LGBT issues printed in several newspapers.
Gerard was a courageous pioneer and has been recognized provincially as a leader and progressive visionary.
Gerard's story of his immigration to Canada is here.
Gerard wrote his own obituary; it is here.
---
August 21, 2022

Gerard died Sunday in a nursing home in Truro, at age 81.

April, 2023

The Queen Elizabeth II Platinum Jubilee Medal: Presented by Nova Scotia Premier Tim Houston on Monday, April 17th for his tireless advocacy for the LGBTQ+ community, Accepted on his behalf by brother Aart Veldhoven and close friend John Carter.
The Michael Theiy Advocacy Award: Presented by the Town of New Glasgow on Wednesday, April 19th for his commitment and efforts towards diversity, equity and inclusion. Presented by Mayor Nancy Dicks and accepted on his behalf by close friend John Carter.