James / Jim / Buddy Clowes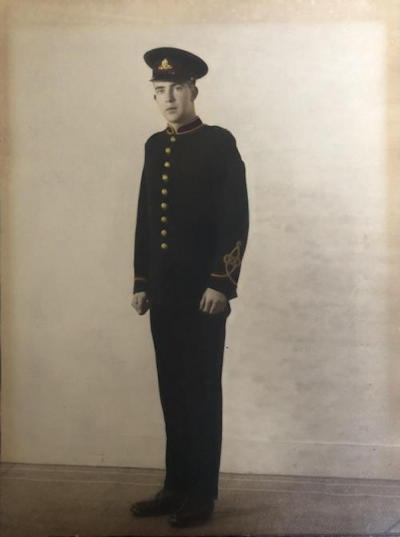 1919 - 1976
Tara Clowes writes:
My family folklore, told to me by my mother before she passed ca. 2002. She sat me down and told me all the family secrets that nobody ever talked about. She said that my grandfather, James Clowes from Dartmouth, NS, was gay, but not openly; he was married with children, and secretly ran an underground gay mens club society in Halifax and / or Dartmouth throughout the 50's and 60's. The statue that adorned the front entrance of the club, after the club was closed, went into his personal effects, which has then passed down through my family.
Tara's father brought the statue home in the late 1990s from his mother's house one day and stuck him in the back yard, in a birdbath (pic on file.) He lived out back in the birdbath for a while, then moved indoors, and later her father painted him the rich blue colour.
They lived on Portland at Victoria.
He was in the military but didn't go to war; he stayed in Saint John. He had diabetes. He's from Maine, from Houlton.
Clowes is the son of J.B. Clowes and the late Mrs. Clowes of Houlton, Maine. He was graduated from Houlton High School in 1939 and enlisted in the Canadian Army in 1940.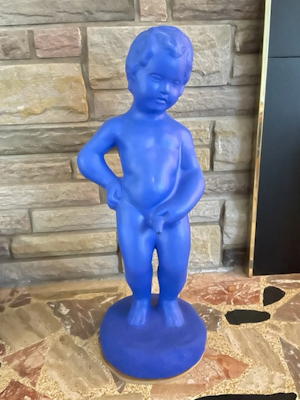 Q's for Tara
check his dates
his wedding announcement calls him G. J. Clowes, what was the G ?
A quick google for her uncle Danny Clowes reveals a quilt panel for him and that... he was president of AIDS New Brunswick (Living & Serving: Persons with HIV in the Canadian AIDS Movement, Charles M. Roy, 1998)
That is exactly the same size as the original in Brussels -- 55cm high.
I didn't actually get contact info for her aunt Muriel Corman - just the name
Other media on file:
55cm tall Mannekin Pis painted blue
Scan of wedding announcement
January 11, 1944 letter to Edmund J Clowes, AGS Disbursing Office, Sheldon V.S. Rou (60), Norfolk(11) Virginia
maybe early 1970s photo of James' three children
the birdbath in Sackville where the statue sat before it was painted and brought it.
September 29, 2022 Interview with Tara Clowes. She also talks about her father's brother, Danny Clowes, who was gay and moved to Berkeley, California and died of AIDS and was buried here probably his Quilt panel. Tara met his brother, who lived in California and was very effeminate. Tara talks about Q folk in her family, and her relationship to the statue.