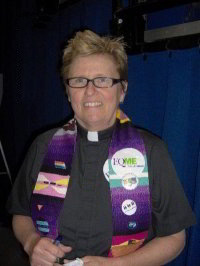 April 2009
Rev. Jennifer L. Paty, came to SafeHarbourChurch from Augusta, Maine, where she served Northern Lights MCC as the senior pastor for 3 years. Prior to Northern Lights, she worked for MCC Detroit for 6 years. Rev. Jen received her Masters of Divinity at Saints Cyril and Methodius Seminary, Orchard Lake Michigan and was ordained in 2004 and has a total of 13 years experience in church leadership including treasurer, clerk and vice moderator of the board of directors, lay pastoral leader, church administrator, associate pastor, congregational education director, and senior pastor.
Prior to saying yes to ministry, she served twenty years in the United States Navy. Rev. Jen retired as a Command Master Chief which is the top enlisted rank in the U.S. Navy. During her 20 years of service to the Navy, she served as a Career Counselor, Master Trainer, and Equal Opportunity Programs Director and as a Jet Engine Mechanic.
Rev. Jen has ten years experience lobbying U. S. State and Local Governments to enact hate crime legislation, employment non-discrimination laws and marriage rights. She currently serves on several Washington D.C. advisory committees working to repeal discrimination laws against gays and lesbians serving in the US Military.
Rev Jennifer says, I am a social justice minister and a spiritual teacher. We are called to journey toward spiritual wholeness in order to do the work of freeing the oppressed.
On March 20, 2011, Rev. Jen announced that she could no longer lead the congregation and was moving back to the USA.