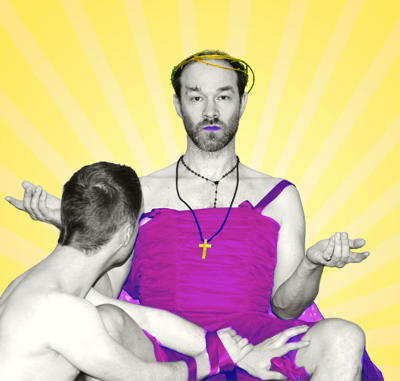 Jesus Is A Faggot, a 2014 play by GarryWilliams, directed by Bill Wood and featuring Williams and MichaelGaty?, tells the story of Andy and Paul, who wrestle with their devotion and desire. One has rejected sex in order to love Christ, the other has rejected Christ in order to embrace his sexuality. Will faith be a barrier or a bridge in the love between these two men? With wit, intelligence, and a few bottles of wine, they tackle their differences and seek to reconcile these dualities.
There will be a sneak peak preview of Jesus is a Faggot at Menz Bar (2182 Gottingen Street) April 10, 2014 to 12 nightly at 8PM. $10 tickets available at the door.
The production then tours to The Dublin International Gay Theatre Festival, May 12 to 17, 2014.