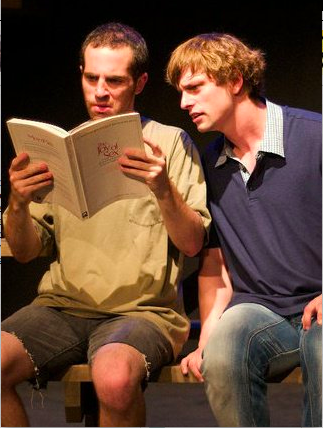 Dec. 2010: Glen Matthews as Logan, and Michael McPhee as Dezzy
Review by DanielMacKay
Two-man, one-act piece by local playwright MichaelMcPhee?, first presented during QueerActs last summer; I didn't get to see it then, but fortunately it's been remounted, and last night Gabe and I went.
It's a rollercoaster of a story -- boy from well-to-do family, Dezzy, finding out he's gay, falling in love and learning about sex with Logan -- the butch straight? bi? boy from the wrong side of the tracks, staying in love despite being alternately ignored, ripped off, and beaten by him. The play starts when they're eight years old and ends twenty years later.
My favourite part of the play was when, after beating him up, and then not seeing him for several months, Logan shows up and offers Dezzy a valuable hockey card in trade for a blow job; Dezzy doesn't want it - he's in love and would have sex with him anywhere, any time. But Logan insists on the trade, and later we see Dezzy with the whole stack of cards.
The play was flawlessly presented. For me it was like running a finger over an old scar, and keenly remembering the pain, and exactly how you got the wound -- and there are lots of laughs in it too.
After the play, we started counting the Logans in our life... and then stopped.
The play runs December 15, 2010 to 19, 2010. Details at LocalEvents.