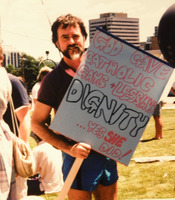 Pride March 1989
Father Michael MacDonald, 1938 - August 8, 1996.
He lived for many years in Halifax, and died in Toronto of complications resulting from AIDS.
A charming fellow who was fun to talk to. He is greatly missed.
Mike was a very sweet and gentle man. In 1978, he was one of the founders and co-ordinators Sparrow, a Christian group which met at The Turret on Sunday evenings.
Here is an article about him and HIV from the October 1994 (1994-10-14) issue of the North End News.
He also was involved with Hope Cottage in the North End of Halifax.