If you need help with substance use or gambling, call 424-8866 or 1-866-340-6700.
OUT! Alive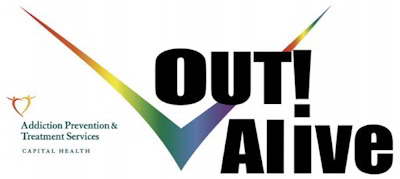 An alliance of citizens who are concerned about drug, alcohol, tobacco, and gambling issues within the Rainbow Community. We are Rainbow Community members, community organization representatives, health care professionals, and academics. We are open to all within the Rainbow Community and our allies.
Vision
Informed choices, broader understanding and healthier lives for those in the Rainbow Community who are affected by addiction.
Our Mission
To increase knowledge of addiction issues (alcohol, drugs, tobacco, and gambling) within our community by promoting Outreach and Understanding; to raising awareness about the Treatment and support options available to our community; to ensure that such options are able to meet, respect and respond to the needs and experiences of those within the Rainbow Community.
Our Values
OUT! Alive is guided by the principles of harm reduction. We believe that knowledge empowers individuals; that with new learning comes freedom and healthier choices. OUT! Alive will meet people where they are, without judgment: practicing respect; encouraging diversity; offering and welcoming learning; supporting individual choice; and promoting our community's health and well being.
Contact Us