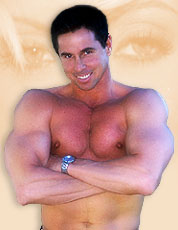 Courtesy of Wikipedia
Peter North (also known as Al Brown or Matt Ramsey) is a prolific Canadian male porn star, director and producer of the 1980s, 1990s, and 2000s. He is one of the most famous male performers in pornography.
North was born Alden Brown on May 11, 1957. He is originally from Halifax, Nova Scotia, Canada, but moved to California, United States, in 1982. When he first entered the porn business he appeared in gay porn films under the name "Matt Ramsey." After about two dozen gay porn films in which he performed in both the top and bottom roles, he made a switch to straight porn exclusively. He has since talked very little of his gay porn history, and at times, has denied it altogether. His most famous scene in a gay film was when he bottomed for Rick Donovan in The Bigger, The Better.
The rest of the Wikipedia article is here