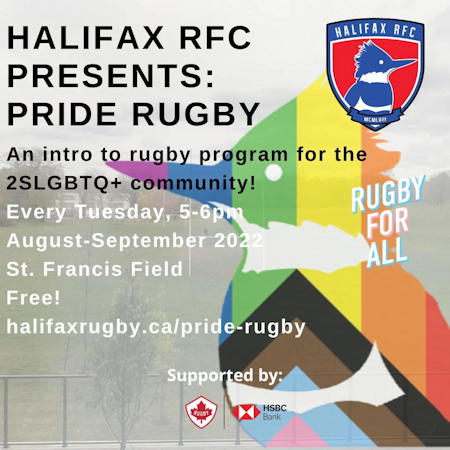 Pride Rugby
This is a specialty mixed-ability, non-gendered and non-contact introduction to rugby program for adults (19+), or juniors (U19-U15) who may have otherwise not felt welcome to participate in the sport of rugby, providing a safe space for Halifax's 2SLGBTQ+ community to try rugby!
We will train together every Friday from 6-7pm at St. Francis field in the South End of Halifax, and we will enter some dedicated Pride teams into a brand new Friday Night Flag Rugby league that we are starting up this summer from 7-8pm! This will provide a mix of tutorials/training and some actual games of flag!!!
I expect costs will be $50-100 for the whole summer, and that will cover insurance allowing you to participate in other non-contact rugby programs through the fall and winter!!!
History
May 27, 2023

Maddison Dennison writes: If anyone is looking to join a new sport and amazing community I will be running Halifax Rugby Football Club s Pride Rugby Program for the 2nd year!!! we will train together every Friday from 6-7pm at St. Francis field in the South End of Halifax, and we will enter some dedicated Pride teams into a brand new Friday Night Flag Rugby league that we are starting up this summer from 7-8pm! This will provide a mix of tutorials/training and some actual games of flag!!!

August, 2022

Launch announcement. Francis field in the South End of Halifax, very Tuesday from 5-6pm through August and September, free. Halifax Rugby says, "Halifax RFC is proud to launch its first ever specialty mixed-ability, non-gendered and non-contact introduction to rugby program for adults (19+), or juniors (U19) who may have otherwise not felt welcome to participate in the sport of rugby, providing a safe space for Halifax's 2SLGBTQ+ community to try rugby! "

June 20, 2009

KimberleyFowlow announces "Halifax Gay (and straight) Men's Rugby Information Session" at MenzBar