Queer Spirit Church
Come and worship as a queer community. All genders and sexual orientations are welcome to experience God's enduring love through song, story, and sacrament. We follow the example of the liberating Gospel of Jesus that seeks to build communities that proclaim social justice for all.
Come, just as you are!

The Fall 2021 worship events will be the first Wednesday of each month, October 6, 2021, November 3, 2021, December 1, 2021. Look for this icon in the big events listing, LocalEvents.
There's a WayvesMagazine interview with minister ArlaJohnson here.
Contact
The People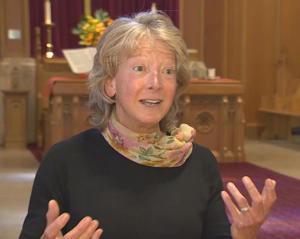 My name is Arla Johnson and I am a lesbian minister from FirstBaptistChurch Halifax, one of the chaplains at Dal and co-owner of JD Shore Rum/Halifax Distilling Co. I've had a dream of opening a queer church in Halifax ever since MCC Halifax closed years ago.
Rick Gunn is the minister of St. Luke's United Church in Upper Tantallon, N.S., and has been involved with the church in general since 2002. He met Johnson in theology school. As an "out and proud" gay Christian, he says he was happy to help when she proposed her queer church idea to him six months ago.
Both Johnson and Gunn are due to be ordained in 2022, which means they'll be certified to perform certain religious ceremonies such as baptisms and funerals. They will take turns leading the services at Queer Spirit Church. Gunn plays guitar as well as piano.
History
September 16, 2021 Beginnings of announcements went out to media
September 22, 2021 CBC Nova Scotia Radio piece, With Queer Church, a Halifax minister hopes to offer a truly welcoming place of worship interviewing ArlaJohnson? and RickGunn?.
October 1, 2021 Interview with ArlaJohnson in WayvesMagazine
October 6, 2021 First service at Oxford United Church. 46 congregants; Worship team: Ministers ArlaJohnson?, RickGunn?, TamsinMichaelRobson? and AnthonyZadeh? on piano. Hymns: Queerly Beloved (Amanda Udis-Kessler 2019), Your Love Is Amazing (Brenton Brown and Brian Doerksen 2000), We Are One In The Spirit (Peter Scholtes 1996), and Sing a new world into being Rowland Huw Pritchard (1830). Arla specifically invited SafeHarbourChurch members.
March 3, 2022 Ash Wedneday Service, the first in-person service for a long time, with glitter in the ashes. TamsinAdrianeMichaelRobson? led hymns with eletric guitar and lead the Children's Activity - story and mixing of the ashes, oil - and glitter; Rabbi Dr NadiaSiritsky? delivered the sermon; Minister Arla coordinating the communion; the minister's and rabbi's wives, greeting people at the big front door. For prelude and postlude Lynette played Debussy & Florence Price's Piano Sonata in E Minor. DanielMacKay's photos are here.
October 5, 2022 First anniversary celebration - Arla & Tamsin presiding; about 30 congregants. Wayves article