Rainbow Refugee Association of Nova Scotia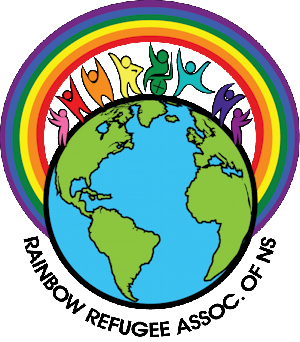 Since 2013, RRANS has privately sponsored more than 25 individuals and has supported many more government assisted refugees from regions including Africa, Latin America & the Middle East. We are continuously fundraising to sponsor and resettle more refugees. We also work closely with Immigrant Services Association of Nova Scotia (ISANS) on developing a model of how to settle LGBTQI+ refugees.
RRANS does *not* receive government funding and, therefore, relies solely on the generous support of individuals, the community and corporate sponsors.
Contact:
Snailmail: Rainbow Refugee Association of Nova Scotia // 6041 Wells St // Halifax, NS B3K 2M9 // Canada
History
August 23, 2011

Launched, "to address issues around LGBT asylum seekers and international LGBT rights"

December 9, 2013

Email newsletter: asks people to invite an RRANS sponsored refugee to your holiday festivities; donations of furniture, specifically chest of drawers, study desks, laptops & computer chairs; call for volunteers and of course making a donation.

2021 Pride Festival

RRANS Co-Founder Corrie Melanson moderated a panel for Halifax Pride's Noon-Hour Panel Series this year. The panel, which can be watched through the link above, brought together 2SLGBTQ+ newcomers to discuss overcoming social isolation - a barrier that had been compounded during the COVID-19 pandemic.
RRANS participated in the Halifax Pride Community Wellness Fair on August 14th & 15th. We got the chance to meet community members, tell them about some of the work RRANS does, and we found some new volunteers.
We also held our Queering the World: Welcome BBQ on Sunday, August 15th. The event was very well attended, and we were able to give out veggie and chicken dogs, plus some gelato and chips, to attendees. The event was set to the wonderful music of DJ Zuluboy.